WATCH: Deaf Mum Hearing Her Family Speak Again Will Bring You Tears Of Joy
Deaf Single Mum Brought To Tears After Hearing Again | Breaking The Silence Live
04:10
The incredibly moving documentary can't help but have EVERYONE sobbing with joy...
The Channel 4 documentary has single handedly restored our faith in humanity, after the TV show introduced us to single mum Rebecca, her sister Amy and her three-year-old son.
9 years ago Rebecca had an unexplained loos of hearing in her right ear.
Then, as if that wasn't enough, 16 weeks ago she tragically went deaf in her left ear too.
"I've had to learn new ways of trying to communicate with him" explains a defiant Rebecca, as she bravely battles her condition, to give her son the best possible life.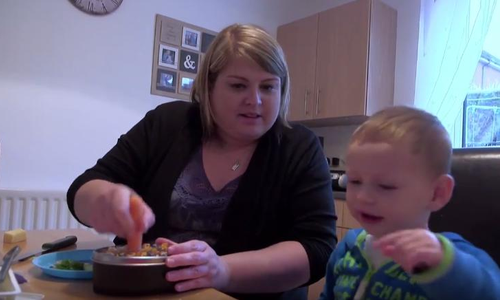 Rebecca and her son | Picture: Youtube via Channel 4
However, with the help of audiologist Hugh Cooper, everything is about to change for the better.
When the mother of one visited Manchester Royal Infirmary with her sister Amy as part of Breaking the Silence Live, we see her hear again for the first time since she lost her hearing, thanks to the help of a cochlear implant.
The show has clearly struck a cord with viewers who have taken to Twitter to discuss the importance of communicating with deaf people so that they don't feel alienated.
People take being able to hear for granted, have the upmost respect for my deaf family and all they've achieved #breakingthesilence

— Em (@EmilyRoseUpton) November 22, 2016
Hearing loss is so overlooked. I continually feel I have to apologise because it's an unseen & forgotten about problem #breakingthesilence

— Emma Bray (@emmapaulmonty) November 22, 2016
It takes time to acclimatise to hearing with cochlear implants, activation is the first step! #breakingthesilence #cochlearimplant

— George Clothier (@GeorgeClothier) November 22, 2016
Blindness cuts us off from things, deafness cuts us off from people - Helen Keller #breakingthesilence

— Maggie Jones (@MaggieLDNguide) November 22, 2016
Watching breaking the silence live on Channel4, #TotesEmoah!

— David Morse (@Dublinate) November 22, 2016