Dick Van Dyke Surprises A WHOLE Restaurant With 'Chitty Chitty Bang Bang'!
Dick Van Dyke and the Vantastix surprise a crowd at Denny's in Santa Monica.
01:09
Dick Van Dyke and his quartet The Vantastix enjoy a little sing-song at breakfast in front of a whole restaurant!
No childhood is quite complete without re-watching 'Mary Poppins' countless times!
The 1964 film is an absolute classic and no characters are arguably more loved than the cockney chimney sweep Bert (okay, except perhaps Ms Poppins herself).
Now Van Dyke proves he's still got it as he performs with his a cappella quartet The Vantastix after having breakfast at Denny's restaurant in the USA, much to the delight of the watching spectators!
The loveable group have been busy promoting their upcoming shows and their new album "Put On A Happy Face".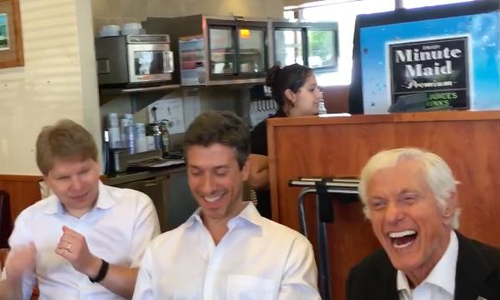 Although some fans are slightly sceptical over whether or not the song was impromptu or planned, everyone can agree that they are LOVING the video.
One viewer Zacharias Twitchin wrote "Oh my GOD I wish I was there! Truly Scrumptious!"
Whilst August Hawk added, "Amazing man and an example to us all to live our lives to the fullest."
More of this please!