Grandparents Recreate Moving Scene From Disney's 'Up' For 60th Wedding Anniversary
Pixar's "UP" in Real Life: 80-Year-Old Grandparents Celebrate Anniversary with Adorable Piano Duet
02:29
Do you have the tissues ready? Because you won't be able to watch this without shedding at least a tear.
For those of us who have seen Disney's Up probably can't even mention it without thinking about the emotional rollercoaster the film takes us on in the first 20 minutes.
We're taken on a swift journey through time, following Carl and Ellie's life together from the moment they met as children, to their wedding day as young adults, through their struggle to have children, right up until the day Ellie dies and leaves a 78-year-old Carl alone.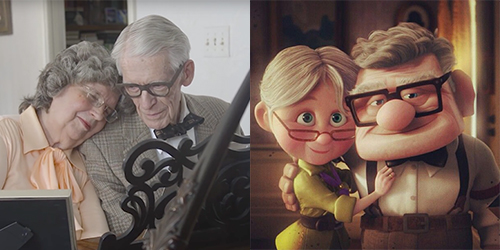 The elderly couple duet on the piano to celebrate their 60th anniversary.
Now, YouTube musician Jason Lyle Black has helped his Grandma and Granddad - 83 and 84 - recreate the scene from Up and perform a piano duet to celebrate 60 years of marriage together.
The video depicts a montage of their life together while they play the theme tune to Up. It's a real life Carl and Ellie moment and it will have you smiling and crying all at the same time.
If you've not seen the scene from Up, you can watch it below: