WATCH! Harry Styles Makes Some Shocking Revelations During 'I Have Never'
Never Have I Ever with One Direction
04:06
Is there anything the One Direction star hasn't done? Well, the cheeky lothario spilled the beans on some of his sauciest secrets on the Ellen DeGeneres Show.
He has a reputation for being the ladies man of One Direction, and so it's no surprise that Harry Styles had some cheeky revelations to share.
The 21-year-old poster boy was joined by bandmates Niall Horan, Liam Payne and Louis Tomlinson on the Ellen DeGeneres show earlier this week where they participated in a hilarious game of 'Never Have I Ever'.
Not even five minutes into a game of 'Never Have I Ever' Harry Styles admits that he has "kissed someone twice my age" and "hooked up with a fan".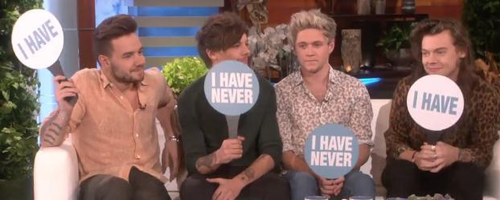 However the teen heartbreaker was soon caught out for not quite telling the truth, when asked by Ellen: "Never have I ever had someone write a song about me," to which Harry sheepishly replied "I Have Never".
Unfortunately for the 'Drag Me Down' hitmaker, we ALL know that ex-girlfriend Taylor Swift wrote her hit 'Trouble' about him, so Harry was quickly called out for telling porkies!
Well after those cheeky revelations, it's got us wondering...is there anything Harry hasn't done?!