A Dad And His Identical Twin Have This Baby VERY Confused!
It's not easy telling twins apart, especially when your own father looks identical to your uncle. Watch the hilarious moment this toddler gets the siblings all muddled up!
A 16-month-old baby was left a little confused to say the least, when his dad's identical twin brother popped over for a visit.
Dad Stephen Ratpojanakul, from New York, managed to capture the hilarious moment on camera and posted the footage on Facebook, and it quickly went viral after being watched more than 12 million times.

In the video, baby Reed can't figure out which of the two men is his father and keeps reaching for a cuddle from both Stephen and his brother Michael, calling them 'Dada'.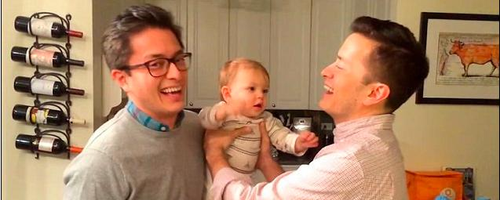 At first Reed is being held by his father, who is standing on the left, and is then handed over to his uncle, who is standing on the right.
It proves all too stressful for the tot who seems to have his head in a right spin!
Aww! Bless him.