Incredible Moment Girl On A Night Out Joins Busker And Stuns Crowd
3 May 2017, 13:21 | Updated: 3 May 2017, 13:40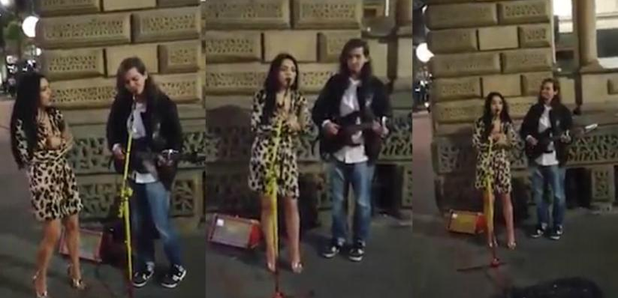 Jade Helliwell and Dawid Osial had never met before but now they're really glad they did!
When busker Dawid Osial took to the streets of Leeds to share his musical talent with the City, he didn't expect to be interrupted by a woman on a night out who wanted to take the microphone, let alone one who can really sing.
Nevertheless, when Jade Helliwell saw Dawid on her night out, she couldn't resist the opportunity to show off her set of lungs - and we're so glad that she did.
Jade, 25, is a full-time musician and joined Dawidin an acoustic rendition of Leonard Cohen's Hallelujah.
Although Dawid had to really be convinced to let her sing, he's really please that he did.
One of Jade's friends recorded the spontaneous performance and uploaded it to the Facebook group Straight Up Yorkshire and wrote: "This is why I love Yorkshire.
"A friend of mine called Jade was on a night out in Leeds and she saw a busker, she goes over and asks if she can have a sing, his face is absolutely priceless when he realises how good she is, the busker is also amazing."

Since then, the video has been watched by over 11 million people and fans are now calling for the pair to appear on Britain's Got Talent.
Dawid told Metro.co.uk the encounter has boosted his confidence: "I do not know what to say , for me it was just an ordinary night. Until I saw this video and I felt my heart beating, awesome feeling, congratulations to Jade, such a powerful voice.
"[Now] I get many messages from people, a lot of encouragement. I think I needed that."
Jade wrote on Facebook to say she'd been overwhelmed by the response. She said: "So last night whilst I was out celebrating my friends birthday i stumbled (literally as heels are the devil) down a road and heard a beautiful voice.
"A young lad was busking and after chatting he let me sing a song with him. I only knew the chorus and a verse (and I managed to mess the word up still -ooops!) but we had a good time singing together.
"The beauty of music-you can cross paths with someone you've never met and come together for a few mins and just enjoy the performance. (sic)"
All we're saying is that Ed Sheeran began his music career as a busker...