James Corden Goes Cowboy In Carpool Karaoke With Carrie Underwood!
Carrie Underwood Carpool Karaoke
08:29
The 'Late Late Show' host is back for yet another hilarious round of Carpool Karaoke with the former American Idol winner.
Corden may be used to singing pop tunes, but this week he went all country when teaming up with Carrie Underwood for the latest instalment of his Carpool Karaoke series.
The unlikely duo belted out the blonde beauty's biggest hits such as 'Before He Cheats' and 'Jesus Take The Wheel' before making a pit-stop at a department store to pick up some country threads.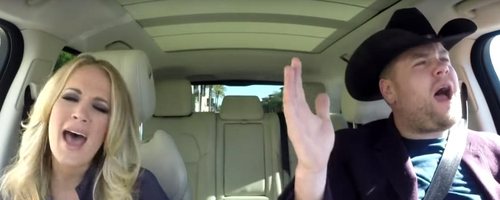 Unfortunately, the clothing which included some leather boots and a cowboy hat, weren't quite in Corden's price range as he joked: "We're not all multiplatinum recording artists! We haven't all had four Billboard No. 1s. Some of us are on CBS at 12:30."
The hilarious offering from Underwood follows previous celebs to participate including Justin Bieber (twice), Stevie Wonder, Jason Derulo, and more.