Watch! James Corden Can't Keep Up With Toddlers In Hilarious Dance Class
Toddlerography w/ Gwyneth Paltrow
02:57
The 'Late Late Show' host paired up with Gwyneth Paltrow to brush up on their dance skills, but they got more than they bargained for.
Dancing with toddlers is a piece of cake right? NOT.
James Corden learned that the hard way when he took part in a dance class led by toddlers in a hilarious sketch for 'The Late Late Show'.
Dressed in their best work out gear, Corden and dance buddy Gwyneth are seen doing some stretches as they talk about the "intense" class they were so lucky to be a part of.
'So glad we got into this dance class," says James before Gwyneth notes, "It's impossible to get in to. It's supposed to be really intense also."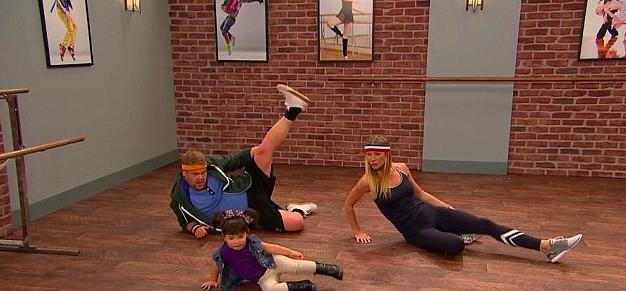 Hilariously, James refers to a student who couldn't quite handle the advance class as he adds: "I heard they make Beyonce cry!"
Just moments later a sassy little girl walks in and it's not long before Gwyneth and James are put to work.
From running up against walls to ballet movements twirls and jumps, hip thrusting (and some moves only contortionists could master!) the pair find themselves out of breath.

Obviously a tasty carton of apple juice with their dance teacher was WELL deserved after!