James Corden Leaves The Grammys With Justin Bieber In Another Hilarious Carpool Karaoke
Justin Bieber & James Corden's Post-Grammys Drive
04:47
The duo made us wet ourselves with laughter the last two times they paired up, and this time they are back and testing their air guitar skills!
It's official, James Corden and Justin Bieber are our all time favourite bromance!
And as if there wasn't enough news from the Grammy Awards last night, Mr Corden and his American bestie have us rolling in the aisles with yet another carpool karaoke session.
Check out the last post ceremony, both still in their matching white tuxedos (a source of great shame to 'The Late Late Show' host), strumming their air guitars to Mark Ronson and Bruno Mars 'Uptown Funk'.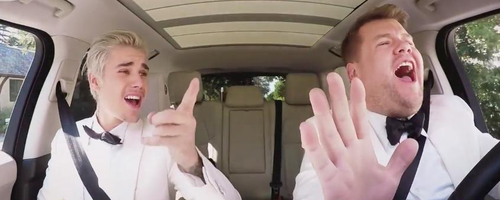 Our favourite moment has to be when Beebs moisturises Corden's T-zone *crying with laughter emoji*.
That feeling when your friend gets a Rolex and an iPad and you get a candle and some lip balm. pic.twitter.com/C0raumzvJR

— The Late Late Show (@latelateshow) February 16, 2016
Watch The Duo's Second Carpool Karaoke!
The 'Late Late Show' host and the 'Where Are You Now?' hitmaker have joined forces once again for part two in James Corden's 'Carpool Karaoke' series, and they haven't failed to deliver.
The 36-year-old chat show host is seen singing Justin's latest hits before they make a detour on their journey to a local department store where they carry out 'makeovers'.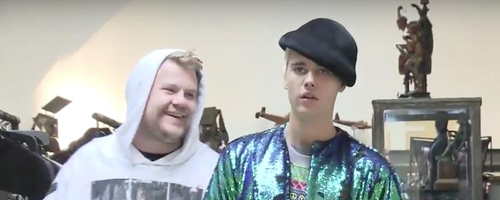 Obviously, this isn't your typical makeover as they both choose ridiculous outfits for each other before taking part in their very own catwalk show.
Once back on the road, Corden and Bieber test their rap (and dance!) skills as they body pop and sing along to Kanye West's 'Stronger' before belting out Alanis Morrisette's classic 90s hit 'Ironic'.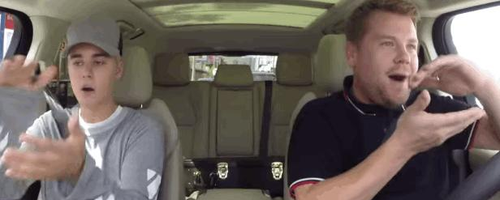 The sequel from the pair comes after their original Carpool Karaoke video went viral earlier back in May.
Watch James Corden and Justin Bieber's First Carpool Karaoke!