James Corden Goes Ghost Hunting....And We Couldn't Stop Laughing!
Ghost Hunting with James Corden & Reggie Watts
08:01
When there's something strange...in your neighbourhood... Who you gonna call? DEFINITELY NOT James Corden! Watch what happens when the hilarious 'Late Late Show' host searches for paranormal activity...
We couldn't think of anything more entertaining than watching James Corden as he tries to make contact with ghosts on his late night comedy sketch show.
The petrified comedian enlisted the help of 'Ghost Adventures' stars Zak Bagans and Aaron Goodwin to help on his investigation to find paranormal activity in the basement of his television studios.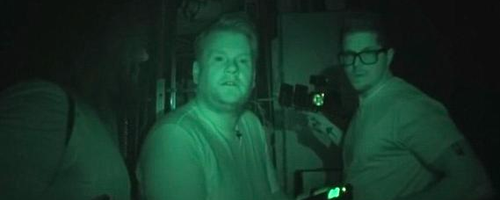 James Corden and the 'Ghost Hunters' gang pursue paranormal beings (Youtube)
Armed with nothing but an Olvius - a fancy gadget to communicate with the dead - and a WHOLE lot of courage, the group are confronted with a ghost named Patsy... and THAT's when the comedy ensues.