WATCH FULL: James Corden and Michelle Obama Dance To Beyonce In Coolest Carpool Yet!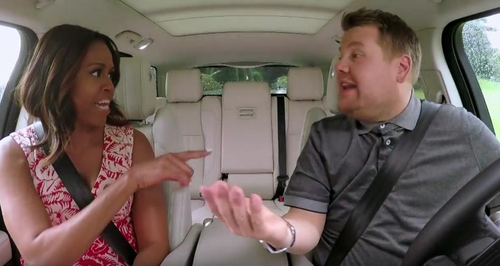 America's First Lady showed she can get down with the best of them...
FINALLY IT'S HERE.
Ever since the announcement that The First Lady of America and The Late Late Show host were going to be joining forces for one of his Carpool Karaoke's we haven't been able to sit still.
Now the video has finally dropped...and it's even better than we'd hoped!
It opens with poor Corden getting interrogated by an overly zealous security guard as he tries to enter The White House for a tour. The 37-year-old funny man is sweating buckets...and we don't blame him!
LUCKILY Michelle saves the day as she jumps in the front seat.
She points out the Oval office and the rose garden, before requesting a few tunes and the incredible Stevie Wonder blasts through the sound system.
"Did you know he's my favourite?" she reveals. "Mine too!" replies an enthusiastic James, before the pair breaking out some incredibly funny moves.
Michelle confesses that she hasn't sat in the front seat of the car for seven and a half years, except for when she was helping teach her daughter to learn to drive.
After confessing that he'd love to nick a few things from The White House, before getting a very stern reprimanding from The First Lady.
Next the cheeky twosome discuss the important things in life - aka. room service and grilled cheese sandwiches. (We're right with you on this one!)
Then Queen Bey's 'Single Ladies' blasts through the speakers and the pair get dancing again.
They also have a chat about Snapchat. The brilliant British comedian asks why Michelle felt the need to join the popular Social Media site that's popular with teens and she tells him all about her amazing initiative 'Let Girls Learn', which aims to bring education to girls the world over.
It doesn't take long for the party to really kick off, after Missy Elliot also jumps in the back seat and Corden and Missy can't resist rapping her hit tune 'Get Your Freak On'.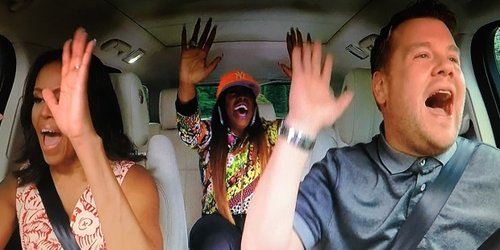 It's fourteen and a half minutes of pure gloriousness and we're are CRYING with laughter!
Want to recreate the magic at home?
Here's your Michelle and James Carpool Karaoke soundtrack:
Stevie Wonder - Singed, Sealed, Delivered
Beyonce - Single Ladies
Missy Elliot - This Is For My Girls
Missy Elliot - Get Your Freak On
The Teaser Announcement:
As if we couldn't love Michelle Obama anymore she pulled out all he stops for a hilarious Carpool Karaoke with James Corden during a guest appearance on 'The Late Late Show'.
The sketch, which will air in full on Wednesday night, sees the comedian arriving late for a White House tour before Michelle jumps into the car and quips: "I hear you're here for a 1.45 tour and I had a little time on my hands so you want to go for a spin?"
Ready to sing her heart out, Michelle reveals that she barely gets to listen to music in the car and that the last time she was able to "rock out" in the front seat was when one of her daughters learned to drive a few months back.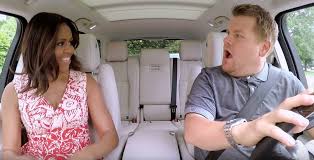 According to her, that was the only time in seven and a half years that she'd been sitting in the front passenger seat of a car.
The preview ended with the pair dancing to Single Ladies by Beyonce, while Missy Elliott's Get Ur Freak On can also be heard during the teaser clip.
Michelle's appearance comes after a string of the biggest stars rocked out alongside James including Adele, Elton John and Justin Bieber.
You've gotta love her!