Watch: James Corden And Stevie Wonder's Legendary Carpool Karaoke!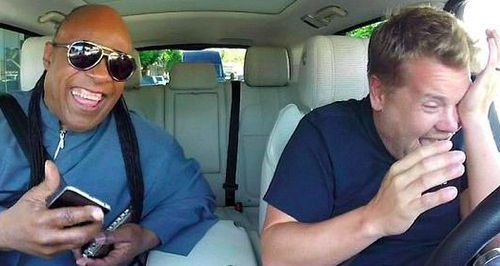 As the 66-year-old singer celebrates his birthday, we look back at THAT legendary carpool karaoke.
The 'Late Late Show' host and the 'Superstitious' singer made us laugh out loud when they teamed up for a cheeky bit of carpool karaoke... and now THERE IS MORE!
Just when we thought watching James Corden and Stevie Wonder singing together couldn't get any funnier, the pair are back and even more hilarious in never before seen outtakes from their 'Carpool Karaoke.'
'Late Late Show' host Corden is seen singing with the blind crooner about Veganism, before belting out some more of his legendary hits in these LOL worthy clips that were left on the cutting room floor.
Stevie Wonder and James Corden's outtakes are released. (The Late Late Show Youtube)
If you remember, James Corden's wife Julie was pretty shocked to say the least when the legendary hitmaker serenaded her down the phone during a surprise phone call on 'The Late Late Show' back in September.
Stevie Wonder joins James Corden for 'Carpool Karaoke'. (Picture: The Late Late Show YouTube)
The heart-warming segment, which came as part of Corden's infamous 'Carpool Karaoke', sees the blind singer crooning his hit 'I Just Called To Say I Love You' down the phone, and it's not long before the water works began (it wasn't from Corden's wife either!)
In a touching moment, 37-year-old host James is reduced to a blubbering mess before joking that Stevie, 65, had scored him "major brownie points" with his wife.