Watch: This Keyboard Player Pulling Bizarre Faces Is EVERYTHING!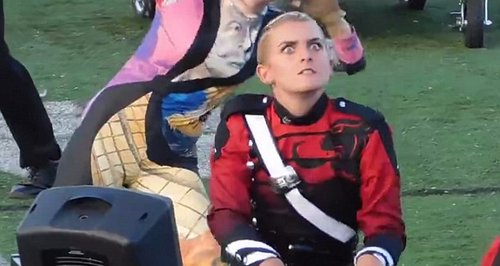 Talk about feeling the music! This keyboard player was part of the Boston Crusaders Drum and Bugle Corps and has since become a viral sensation due to her crazed facial expressions during her performance.
From baring her teeth to opening her eyes wide at the audience, the keyboard player - who's name isn't known - is doing everything she can to freak out the audience!
Since it was published on the social media site, the video has been viewed more than 1.8 million times and shared by more than 1,500 times.
Judging by the facial expressions of the percussionist in front of her, the freaky facial expressions was part of a theme for the show.
Nevertheless, the keyboard player has the upper hand when it comes to really getting in to the music!
Regardless of how bonkers her expressions are though, you can't fault her on her mesmerising performance and her skills as a keyboardist!