Moment 10-Year-Old Boy Sees In Colour For The First Time Will Make You Cry
2 May 2017, 13:21 | Updated: 2 May 2017, 14:33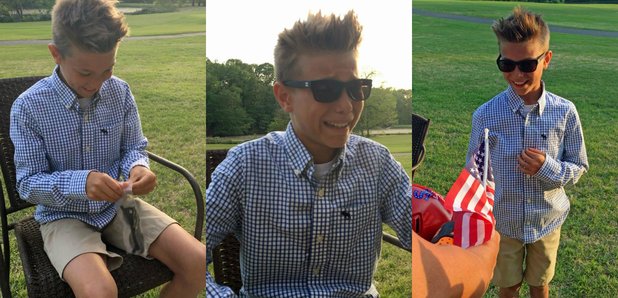 Ten-year-old Xavier McCoury is colour blind - but thanks to these "magic" glasses he now gets to see the world in all of its beautiful hues.
Be honest, how many of us take for granted the beauty of seeing everything in colour? We know we do.
Ten-year-old Xavier McCoury doesn't have to imagine what it would be like to see the world in black and white because it's a reality for him.
Which is why it's no surprise that he was moved to tears when he got to see the world in all of it's hues, thanks to a pair of "miracle" glasses he received as an early birthday present.
Xavier's mum said that her family witnessed a "miracle" as her young son was able to finally know what the colours of his favourite things in life look like.
The baseball enthusiast ripped off the packaging to his present before his aunt Celena revealed that they were the "special glasses" he'd been hoping for.
As soon as he put the glasses on, Xavier begins to cry with overwhelming happiness at seeing the new world around him.
Xavier was on FaceTime to his family at home in Charlotte, North Carolina, USA, when he opened the gift.
His mum Melissa said: "It's impossible to describe how much this moment meant to him and the whole of our family.
"We all felt like we had just witnessed a miracle, seeing something we'd all hope for, for so long unfolding before our eyes was just unbelievable.
"As a parent, all I want to see is that my kids are happy, and seeing him cry tears of joy was the greatest feeling.
"He never wants to take the glasses off now, he's completely fascinated by everything around him."
Make sure you have your tissues with you when you watch this one. You'll need them!