This Panda Playing In The Snow Will Make You Smile
Storm Jonas is wreaking havoc on the East Coast of the USA - but there's one fellow who's making the most of it.
While over here in the UK the weather may be mild, our neighbours over the pond have been hit by Storm Jonas.
The storm - which has been nicknamed 'Snowzilla' - dumped 22 inches (56 centimetres) of snow in Washington and 25 inches in New York.
Broadway shows were cancelled, roads blocked and people were left in darkness after a power cut.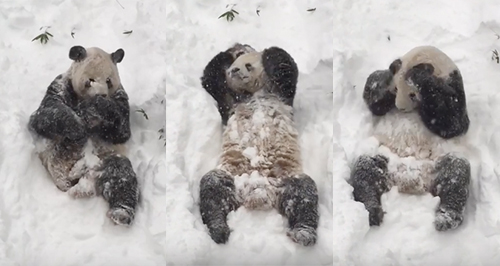 Tian Tian in the snow! Picture | Smithsonian's National Zoo
However, amongst the chaos was one little fellow who couldn't be happier with the snow fall. Well, giant fellow actually.
Meet Tian Tian, the giant panda who is living at Smithsonian's National Zoo in Washington DC. He was beyond excited about the snow!
Pandas have a thick fur designed to withstand snowy weather in their native land, China, so Tian Tian was free to frolic around as much as he liked!
If you haven't already, watch the video above which is guaranteed to give you a warm fuzzy feeling inside!