WATCH! Peter Andre and Kids Pull Off Their Very Own Carpool Karaoke And It's ADORABLE!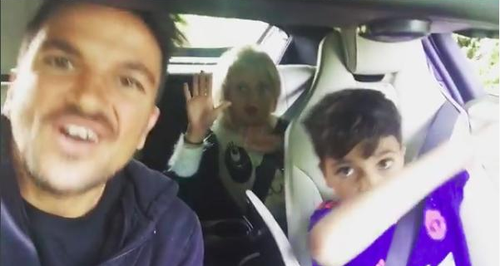 The doting father of three shares the cutest lip-sync video EVER.
It looks like Peter Andre's kids are set to follow in their father's footsteps as they joined him in a good ol' sing a long during their car journey.
The doting father of three, took his eldest children Junior, , and Princess, for spin and it wasn't long before the musical family broke out into song with a stellar rendition of 'Uptown Funk'.
Peter is seen miming along to the track with Princess, while Junior happily shimmies away.
The short clip has now racked up over 400,000 views after the 'Mysterious Girl' singer shared the video to Instagram with the caption: "Nutters :) Before you say anything, we were parked up."
Despite his warning, fans had nothing but praise for the fun-loving family, as one wrote: "Brilliant, they will follow your footsteps."
"Can't believe how much they've grown up," another added.
Peter, who is expecting his second child with wife Emily MacDonagh, recently opened up about his parenting style and admitted that it's not all fun and laughter.
"I do have strict rules. They are not allowed mobile phones at home and to go on social networks… it doesn't mean I'm right, but that's just my way of doing it."
You've gotta love him!