Watch: This Polar Bear And This Dog Make The Most Unlikely Friends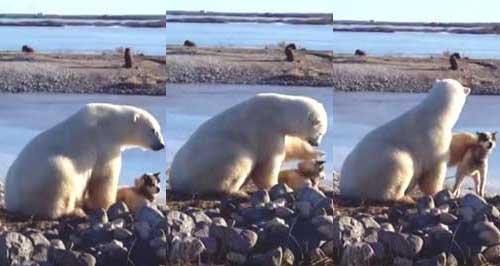 Unbelievable footage of a wild polar bear petting a dog has emerged online and it's the cutest video we've seen ALL YEAR!
A tour guide in Canada has managed to capture the video of a lifetime, after he spotted something amazing happening right before his eyes!
David De Meulles has been running tours for years, but was blown-away when when he managed to capture the "video of a lifetime" out in the Canadian wilds.
Polar bears weigh between 330-990Ibs and could do some serious damage if they wished.
This fluffy white bear is more powerful than he looks therefore!
However, this bear reacted in a very unexpected manner when it came across this chained up sled dog in Manitoba.
Instead of attacking the smaller canine, the gentle giant amiably pats the dog on the head and rubs his fur.
The pooch seems completely unfazed by the encounter and seems to enjoy the attention.
What a cute couple of pals!
Watch the video below: