PSY Wears A NAPPY In Irritatingly Brilliant Video 'Daddy' But Michael Buble Isn't Impressed!
PSY - DADDY(feat. CL of 2NE1) M/V
04:06
The South Korean pop prince has returned (wearing a diaper!) in yet another brain boggling new video that will have you humming and dancing along... whether you like it or not! PLUS find out why Michael Buble has dissed the star.
It's been three years since Gangnam swept the globe and although we still have NO idea what it means, the dance is certainly iconic having racked up over 2 BILLION views on Youtube making it the most watched video ever!
Now Psy, real name Park Jae-sang, is BACK with a crazy new video "Daddy' that is irritatingly brilliant.
Watch! Harry Styles Makes Some Cheeky Revelations During 'I Have Never'
Queue bad fashion, bad dancing yet eye-watering laughter, as the -year-old internet superstar parades around in some ridiculous outfits that include a nappy... WEIRD we know, but it works!
It's not clear as to whether this video will reach the dizzying heights of Gangnam Style, but it's promising as it's already racked up over 13 million views in just two days!
Something tells us this won't be the last we see of Psy!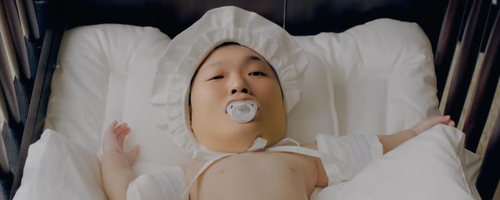 It seems as though not everybody is as happy with Psy's return, as singer Michael Buble has spoken about his disdain for the dance track claiming he "doesn't want to live in this world" if the Korean poster continues to surge in popularity.
The Grammy-award winning singer stopped by the TODAY show where he watched the viral video and made it clear that he wasn't impressed!
"Honestly, this just made me really sad," Buble explains. "I don't want to live in this world anymore."
In fact, he was so outraged by Psy's latest offering that he claims it's putting him off making music all together!
"If this is what we have to look forward to at the Grammys next year, I'm out!" Buble declared.
Say it ain't so Michael!
Watch what the handsome singer had to say below!