This Teacher Giving A Fake Spelling Test To His Class Will Have You Crying With Laughter
4 April 2017, 12:47 | Updated: 4 April 2017, 14:14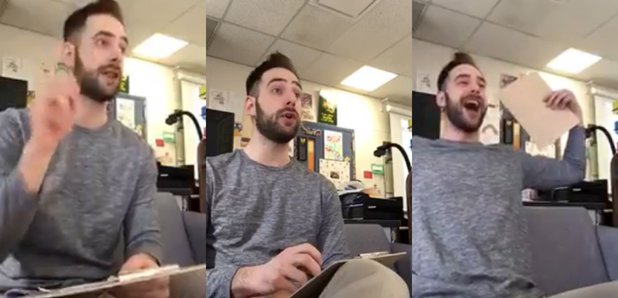 Teacher Joe Dombrowski pulled the ultimate April Fools' Day prank on his class last week by giving them a spelling test littered with fake words.
Have you ever used a sentence containing the word "blorskee"? Or "slipert"? Or "shabolaskp"? No?
Well, Mr. Dombrowski gave his class a rather convincing example of when to use them.
Teacher Of The Year Gives Students Hilarious Fake Words Spelling Test As An April Fools Prank pic.twitter.com/B635UM5gLN

— Ken Rutkowski (@kenradio) March 30, 2017
The class of 10-year-olds from Oakland Elementary School in Michigan was left baffled after Mr. D. was testing them on words that they had never heard before.
Mr. D. didn't make it easy for them by even featuring "silent letters" in the made up words.
Mr. D. waited until the very end of the test - after they had gone through and marked their own work with the "correct" spelling - to let them know that it was all just one big prank!