Teenagers Wow Star Wars Composer With Amazing Music...Right Outside His House!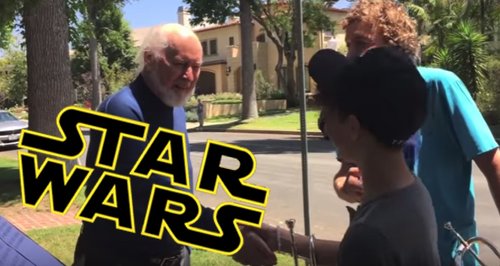 A pair of cheeky teenagers set up outside the home of legendary composer John Williams to do a special rendition of the 'Star Wars' theme...AND HE LOVED IT!
Did you know one man is responsible for the iconic themes to Jaws, Superman, Indiana Jones, Jurassic Park AND Star Wars?
Amazing, right? In fact, John Williams is pretty much a living legend with an Oscar on his mantlepiece thanks to his work on 'Star Wars: A New Hope' in 1977.
Two fans who took their John Williams love to the next level are trumpeter Bryce Hayashi and flugel player Mickle Miller, who made the spur of the moment decision to play the 'Star Wars' theme on the pavement RIGHT OUTSIDE John's house!
Like literally playing the soundtrack at full volume into his front window. LOLZ.
A neighbour was on hand to film the moment and, of course, the video has gone viral.
Despite the noise, John was an amazing sport and came out of his house to say hello. Awwwww, what an amazing guy!
Okay, so it's kind of rude to blast music into someone's house...but we have to admit this video is great!
Tell us your thoughts below...