THESE Are The Most Watched Viral YouTube Videos Of 2016!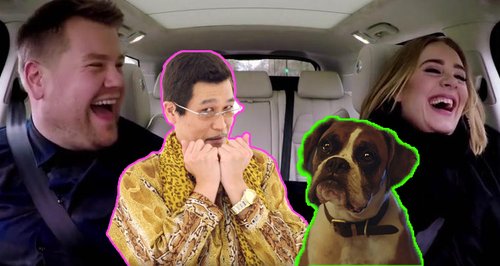 How many of them have you seen? Hint: There may be a big helping of James Corden involved...
Someone hand James Corden a trophy!
YouTube has revealed the top viral videos of 2016 and it turns out Brit funnyman James Corden has taken the gold medal.
His Carpool Karaoke sketch with Adele is officially the biggest viral hit of the last 12 months, with more than 135 million views online.
In the video Adele can be seen rapping to Nicki Minaj, chugging a cup of tea and singing along to the Spice Girls with James. We don't know many people who haven't watched it more than once!
Relive all the fantastic moments by pressing play...
Other viral hits include the psychedelic Pen-Pineapple-Apple-Pen - a 68-second music video by comedian Piko-Taro that definitely has to be seen to be believed!
Seriously, watch it here and tell us whether it makes you laugh, cry or scream in terror...
Other top videos of the year include the John Lewis Christmas advert starring Buster the Boxer and a man dissecting a rattlesnake to see what actually makes the animal rattle... yes, really!
YouTube sensation Joe Sugg aka ThatcherJoe and his sister Zoe of Zoella fame also appear on the list with a rather cringeworthy brother-sister game of 'Never Have I Ever'!
Take a look at the most viewed videos of 2016 in the UK below...
1. Adele Carpool Karaoke
2. John Lewis Christmas Advert 2016 - #BusterTheBoxer
3. Boogie Storm make Simon's dream come true! | Auditions Week 5 | Britain's Got Talent 2016
4. SIDEMEN CROSSBAR CHALLENGE!!
5. SINGING IMPRESSIONS WITH CONOR MAYNARD
6. ROOF TOP FOOTBALL CHALLENGES
7. NEVER HAVE I EVER WITH MY SISTER!
8. Pen Pineapple Apple Pen
9. What's inside a Rattlesnake Rattle?
10. Ice Cube, Kevin Hart And Conan Help A Student Driver - CONAN on TBS
To celebrate an incredible year of viral videos, YouTube have even created their own 2016 flashback featuring some of the biggest stars of the video world. In fact, more than 200 YouTubers from 18 countries appear in the new YouTube Rewind music-video-meets-advert.
Plus, there's 26 UK stars including Alfie Deyes, Colin Furze and the Slow Mo Guys to name a few...
Check it out!
What have been your favourite viral videos of 2016? Let us know in the comments below...