Watch This Baby's Adorable Reaction As She Sees Her Mum For The First Time!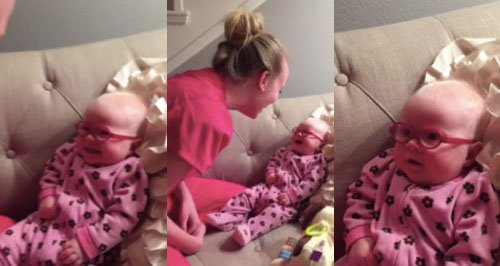 This adorable little tot has good reason to smile, after being given her first pair of specs.
Every parent knows the joy of watching your baby smile, but little Tilly has both her parents and the world gushing over her adorable grin after watching her receive her first pair of glasses.
Thanks to a pair of spectacles, the tiny tot was able to see properly for the first time after suffering eyesight problems at just three-months-old.
Adorable footage filmed by her doting father at their home in the U.S. shows the tiny pair of frames being slipped onto her head, and the heartwarming look on her face that followed.
A cheshire cat grin instantly spreads across Tilly's face as her mother coos at her adoringly.
Tilly can be seen transfixed on her mother's face, seemingly realising she can see clearly for the first time.
'I think she likes them,' the dad says.

The small infant seems fascinated and a bit overwhelmed by the momentous occasion, and is seen alternating between staring seriously and breaking into a toothless grin.

How cute!