WATCH The Heart Wrenching Moment A Little Boy CATCHES His Falling Baby Brother!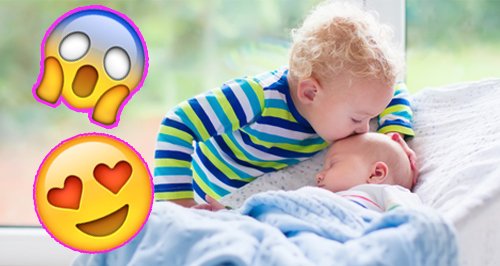 An incredible video shows the moment a quick-thinking kid caught his baby brother mid-fall. His emotional reaction will wow you...
A new video has proven just how brilliant, quick-thinking and FAST kids can be when it comes to protecting their brothers and sisters.
Nine-year-old Joseph Levi leapt to save his 11-month-old baby brother when he fell from his changing table... and the whole gut wrenching moment was caught on tape!
Mum Tila Levi admitted she was initially "too embarrassed" to share the video, but now she's shared it on Facebook to prove that accidents can happen even if you only take your eyes off your child for a split second.
Now, she believes her son Joseph was "pushed by an angel" to save little Eitan, especially as he only stepped into the room a fraction of a second before his brother fell nearly three feet.
See the incredible moment caught on security camera here...
The family, who are from Bal Harbour, Florida, are now feeling very grateful to have such a quick-thinking son!
Tila told the Press Association: "I was putting my five kids to bed, Danelle 13, Joseph nine, Zion six, and twins Eitan and Eliana 11 months - I turned to the side to talk to my six-year-old when the baby turned over and rolled off the changing table. Joseph was not in the room, he happened to walk in in that moment and ran to catch his brother.
"He has no idea how it happened he feels it was a miracle. He says he can barely carry the baby and was in shock to have ran so fast and caught him. We feel lucky and blessed and we chose to share the video to bring awareness to all moms, dads, grandmothers or caretakers, it really could happen in a second - just from looking away not even walking away. We hope this will prevent accidents related to babies on high changing tables and beds."
It's not just Joseph catching his brother that's heartwarming... we also love the way Tila comforts and praises him, especially because he's visibly shaken up by the rush of shock and adrenaline.
We hope this fantastic brother get's an extra special treat for his fantastic reflexes! Share your thoughts below...