WATCHING This Woman Wear A Chewbacca Mask During Labour Is Hysterical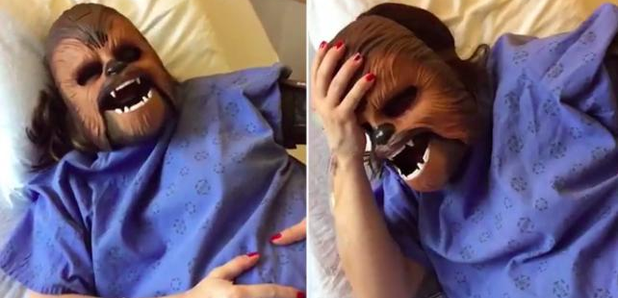 Well this is certainly one way to distract from the pain of childbirth!
Anyone who has children knows that giving birth to a child isn't easy, that's probably why one woman decided to lighten the mood during her labour.
In a bid to bear the pain of her contractions, Katie Stricker Curtis, donned a Chewbacca mask to turn her painful screams into the Star Wars character's famous growl as she writhes around on a hospital bed in a hilarious new video.
The Detroit native can be heard speaking Wookie language as she rolls around in her hospital gown in the 12 second clip shared to her Facebook page.
While most people would consider her actions bizarre, albeit entertaining, it turns out the expectant mother simply wanted to take away some of the 'adulating' that comes with giving birth.
Posting the video of herself to her Facebook page, Katie wrote: "Just because I'm about to be a mom doesn't mean I have to grow up!"
"Bwahahahahs never take life too seriously! Best Christmas gift ever! #havingababy #pregnancyhairgrowth
It's no surprise the LOL worthy video has already been viewed over 200,000 times on the social networking site, not mention over 200 comments!
So what did her doctor think?
Well apparently he was behind the whole thing!
According to Katie, her doctor was so amused by the mask and her moans he just had to document the whole thing.
We don't blame him! Thanks for sharing!