Chudleigh: Rare Bat Colony Under Threat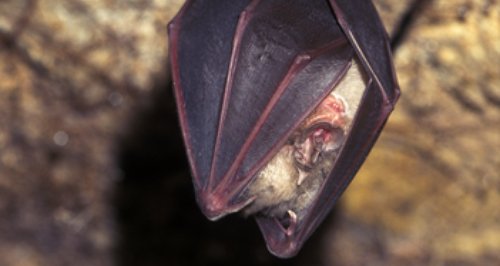 The future of a population of one of northern Europe's most threatened wildlife species will be the focus of a High Court action in Bristol on Friday 12 June.
The charity Devon Wildlife Trust is bringing the Judicial Review against a planning decision made by Teignbridge District Council to grant permission for up to 230 houses to be built on land which lies just 170 metres from an internationally important site where female greater horseshoe bats congregate to give birth and raise their young.
Devon Wildlife Trust has taken this unusual step in the court because the Rocklands development on the edge of Chudleigh, in South Devon, will pose a serious threat to the future of these rare bats.
Chudleigh's population of greater horseshoe bats is one of the largest left in the UK but overall the species is in serious decline.
The Devon bats use a site close to the Chudleigh town centre as a place to hibernate in winter and as a summer maternity roost in which to raise their young.
The caves have protection from disturbance and development, and form part of the South Hams Special Area of Conservation.
However, this same protection does not extend to the surrounding green fields and hedgerows which act as vital feeding grounds and flightpaths for the bats.
It is the decision of Teignbridge District Council to permit a development of 230 houses in this bat-friendly landscape that Devon Wildlife Trust is taking court action to try to overturn.
Greater horseshoe bats have suffered a catastrophic decline in the past 100 years.
This large bat, with a wingspan of almost 40cm, was once common across southern England, but changes in land-use such as urban development and a move away from cattle grazed pastures and hay meadows has seen its numbers tumble by more than 90% since the early 1900s.
This has left greater horseshoe bats clinging on in just a few areas.
Devon remains one place where the bats can still be seen and supports the largest population in the whole of northern Europe. With just 6,500 greater horseshoe bats left in the UK, a third of these survive in the county.
Devon's greater horseshoe bats are now restricted to just 11 key roosts. But now with the Chudleigh roost threatened by a housing development, Devon Wildlife Trust is concerned that the endangered species will be dealt a devastating blow.