House On Fire In Paignton.
25 June 2013, 11:32 | Updated: 25 June 2013, 13:20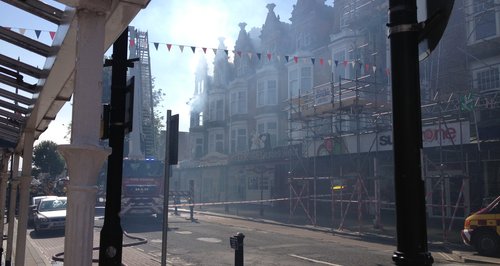 A house in Paignton has been destroyed by a fire.
The second and third floors of the end of terrace house on Torbay road have been badly damaged by the flames.
A twelve year old girl raised the alarm this morning, alerting emergency services.
Fifty firefighters attended the scene with eight fire engines, an aerial platform and several other support vehicles.
The team used gallons of water to get the fire under control.
Police cordoned off the road and advised people to avoid driving in the area.
Bystanders were shocked by the size of the smoke plume and watched as roof tiles rained down onto cars parked on the street below.
It's believed nobody was injured in the fire.
By 11am, firefighters had extinguished the flames but the building was still smouldering and police officers said the road was likely to remain closed for the rest of the day.
Heart's Andy Downton in Paignton