How Dogs Are Helping PTSD Recovery
2 May 2017, 00:00
Talking Dog Training for PTSD
03:25
Post traumatic stress disorder (PTSD) is an anxiety disorder that can occur after you have been through a traumatic event.
During this type of event, you think that your life or other's lives are in danger.
Sufferers may feel afraid or feel that they have no control over what is happening.
After combat or military exposure veterans can be left feeling scared, confused, or angry.
If these feelings don't go away or they get worse, then they may have PTSD.
These symptoms may disrupt vetarans lives, making it hard to continue with their daily activities.
Owning a dog can lift your mood or help you feel less stressed.
PTSD Service dogs can help a Veteran remain calm by preventing people from crowding around or rushing up behind in public places which will provide a comfortable space for the Veteran or PTSD sufferer.
Recognising the Health Benefits of Dog Ownership:
Dogs are a great stimulus for exercise.
Dog owners exercise more!
Playing with a dog can increase levels of serotonin and dopamine, which calm & relax.
People with dogs have lower blood pressure in stressful situations than those without dogs
Dog ownership is associated with lower levels of stress and depression
Increased psychological well being Increased survival after a major illness
Increased opportunities for social interaction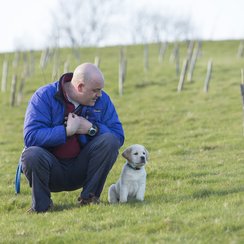 Charity Veterans With Dogs are overwhelmed with requests for puppies but in Devon and Cornwall they do not have enough puppy socialisers to meet demand.
Puppy Socialisers spend countless hours caring for, teaching, and socialising the pups in the real world.
Dogs become comfortable with home life, learn basic obedience, and begin to experience the world.
Puppy Socialisers take our puppies everywhere, to work, out to eat, on trips, and even shopping.
This real-world training imitates the experiences that our puppies need in order to be successful assistance dogs.
A well socialised puppy will have a great advantage when it comes to being placed and sets out on formal training.
TEL: 0843 289 8899
PLEASE NOTE THAT THE TELEPHONE IS NOT CONSTANTLY MANNED - You may need to leave a message!
Hannahs at Seale-Hayne
Howton Lane
Newton Abbot
Devon
TQ12 6NQ