Widecombe: Mobile Phone Mast Plans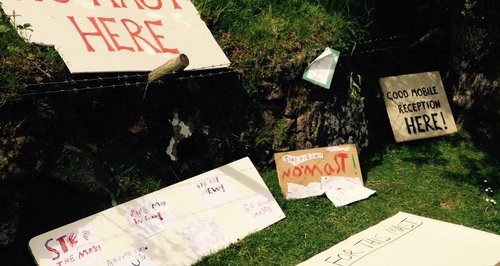 Communications company Arqiva are blowing up an inflatable 75-feet high telecommunications mast at Widecombe on Wednesday 3rd June as a demonstration as to how it would appear in the Dartmoor landscape.
This is in response to recent objections before a planning meeting takes place.
Residents opposed to the planning application are planning to demonstrate their feelings with placards and are advising local press and television stations.
The location of this proposed "development" is on land at Drywell Farm, south-west of Widecombe, between East Shallowford and Dockwell.
The height of the mast is the equivalent to five double-decker buses on top of each other with an extra five feet on top of that.
Alternatively, think of the Angel of the North plus another nine feet. This is destined for a field 1,000 feet up in some of the highest quality landscape in England.
The company's aim is to improve mobile phone coverage to some 47 residences - who already have landlines and decent broadband connections.
The average cost of these masts is £300,000. That means the cost to the British taxpayer, in this government-backed scheme, to "connect" each house (some of which are holiday homes) is £6,382.
Protestors believe the scheme will have a destructive effect on some magical Dartmoor landscape that, once destroyed, may never recover again.
In a written statement Arqiva told us: The MIP is a publicly-funded programme designed to provide mobile phone coverage to areas in the country where currently they do not receive any - we call these areas 'not-spots'.
We need to place the masts to cover as many premises as possible.
If this mast can go ahead, it will benefit the surrounding area and local residents who will receive mobile coverage for the first time.
The residents of Widecombe who currently do not receive any phone signal at all, under MIP they would benefit from a strong signal from all four mobile operators."