Fans Speculate Holly Willoughby Might Be Pregnant As Phil Downs Shots Alone!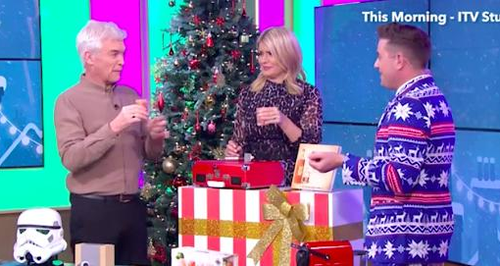 The mum of three has set tongues wagging that she might be expecting baby number four!
It's no secret that This Morning presenters Holly Willoughby and Phillip Schofield are partial to a bit of booze. Remember when the pair turned up to work in their outfits from the night before after the National Television Awards? Hilarious.
So you can imagine the shock of viewers when the bubbly This Morning presenter decided to decline a shot of tequila on Tuesday morning.
During a segment on the daytime show, Philip Schofield and Holly were presented with Christmas present ideas including some Himalayan salt shot glasses, and while Phil couldn't wait to give the tipple a try, Holly was a lot more reluctant.
She put the glass to her lips but pulled away before trying any.
Philip was less impressed with the salty shot glasses (ITV)

As he was offered a shot, Phillip joked: 'It's a bit early on in the day. Do we have anything serious coming up?'
Knocking it back, he said: 'It's really salty. How long has it been in there?' referring to the fact that the shot glasses flavour the drink.
After squirming, he bellowed: "It's like sucking on the harbour in Newquay.'
Despite the his hilarious reaction, viewers were more concerned with Holly's decision to give the shot a miss.
@thismorning Why did Holly refuse the tequila???? ????

— ClareBear :0) (@ClareBear203) 6 December 2016
@thismorning holly not drinking!!..is there a secret baby hidden.

— richard griffin (@richardmgriffin) 6 December 2016
Of course there is no substance to the speculation, but it's not like Holly to refuse a drink!
Today's show drew a stark comparison to when Holly and Phillip decided to take things up a notch and down shots to celebrate their win at the TV Choice Awards, during a segment presented by Ferne McCann and Vicky Pattison.
Ferne and Vicky visited a lemon farm in Italy to find out more about the alcoholic tipple Lemoncello when they invited Phil, 54, and his best pal Holly, 35, to give the booze a try.
To test how sweet the drink is, they bit into a lemon before downing the Lemoncelllo and their reactions were priceless!
Holly said: "We want to say a huge thank you for voting for us at last night's TV Choice Awards, we were lucky enough to win Best Daytime Show, so thank you very much."

Phillip revealed they had raised a glass to the show's late agony aunt, Denise Robertson, who died in March: "It was a great night. And we dedicated it to our Denise Robertson because it was her favourite award ceremony."
"She loved going to the TV Choice Awards so it was only right and proper that we toasted her with a tiny tequila… We were very well behaved, just look at how well behaved we are now!"