Jamie Dornan and Gillian Anderson Return For Thrilling Series Of 'The Fall'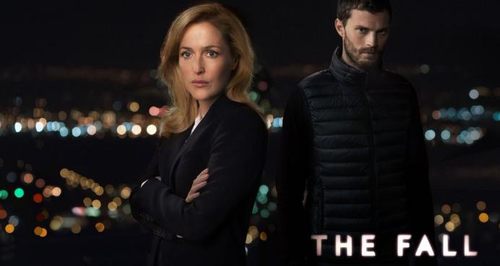 Contains series two spoilers! Although you definitely should've watched it by now...
The last series ended in suspense, with Stella Gibson (Gillian Anderson) holding on to the bleeding body of sociopath Paul Spector (Jamie Dornan) who'd been shot. We also found out that Rose, the girl that he'd kidnapped, was alive.
Since then, we've been left wondering whether Spector will survive and pay for what he's done.
"You will never know the almost God-like power that I feel..."#TheFall series 3. Coming soon to BBC Two.https://t.co/NT5GM5iNNs

— BBC Two (@BBCTwo) 23 August 2016
The new teaser trailer for series three features a conversation between Gisbson and Spector laying out their warped relationship whilst Gisbon is doing some intense exercise in the pool.
'You will never know the almost God-like power that I feel...' says Spector.
And as she reaches the end of the pool, there's a sark figure waiting for her. And just when she lifts her head above the water the trailer ends.
We're left wanting to know who it is but we can have a good guess.
We're not sure what this series has got in store for us but what we can decipher is that this series is going to be dark, thrilling and creepy.