£500m extra for Wales in the Autumn Budget
29 October 2018, 17:12 | Updated: 29 October 2018, 17:39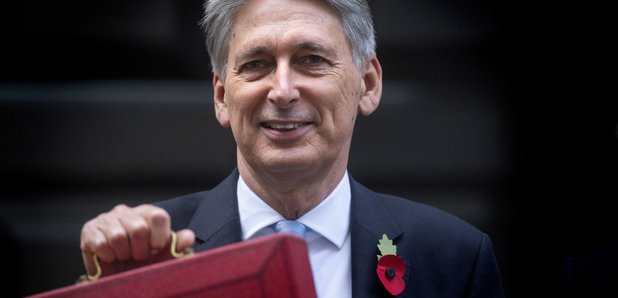 £550m of additional funding has been announced for the Welsh Government as a consequence of the Autumn Budget.
The Chancellor Philip Hammond has outlined extra investment in roads and the NHS in England, which means Wales will receive a share of extra funding through the Barnett Formula.
The Welsh Government will decide how the money is spend but Philip Hammond claims the budget sends a "clear message to the people of Wales"
"Your hard work is paying off and thanks to the UK Government's careful stewardship of the economy, the public finances are in a much stronger position and national debt is falling.
"This means we have more money to invest in Wales's future."
How the budget will affect Wales:
£120m in funding to support the North Wales Growth Deal
£550m extra for the Welsh Government through the Barnett Formula
How the budget will affect your finances:
The National Living Wage will rise from from £7.83 to £8.21 in April
The amount we can earn before paying tax will rise to £12,500 a year
Taxes on alcohol and petrol will stay at the current level
The price of cigarettes will rise by inflation plus 2 per cent
Some of the other announcements include extra funding for the military and a new tech tax on internet giants.
But Labour leader Jeremy Corbyn criticised the lack of money for 'Waspi women' affected by pensions changes.
Plaid Cymru Leader, Adam Price said: "This was a fantasy pre-Brexit Budget based on imaginary numbers.
"Growth remains below two percent for the foreseeable and with the Brexit cloud still looming large these figures may still be very optimistic.
"Wales remains an afterthought for Westminster, with transformative infrastructure projects in our nation scrapped for the sake of feeding the overheating economy of the south east of England."
Welsh Liberal Democrat Leader Jane Dodds said: "The announcements of an extra £550m for the Welsh Government over the next three years and more money for Universal Credit fall far, far short of what is needed.
"We needed a Budget that gave people fairer taxes and better public services, and a final say on the Brexit deal. Today, we got neither."