Big rise in police taser use in Wales
13 April 2017, 12:36 | Updated: 13 April 2017, 12:49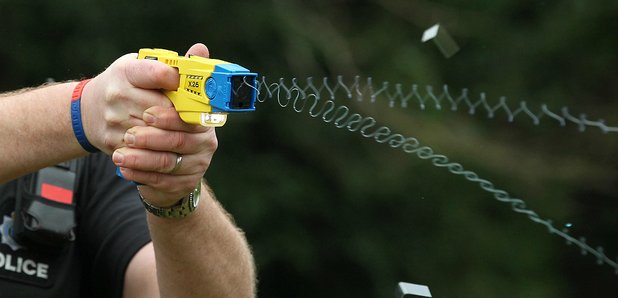 New figures suggest the number of tasers, being fired at suspects in Wales, has increased significantly in the last few years.
Home Office statistics show tasers were discharged 126 times by the four Welsh forces in 2016, a rise of 65 per cent compared with the same period in 2014.
South Wales Police recorded the most number of discharges, with 45 last year. Tasers were fired 29 times in North Wales, 28 in Dyfed-Powys and Gwent Police recorded the least with 24 instances.
The figures also show 325 suspects were "red-dotted" in Wales, which is where the device is not fired but aimed and then partially activated so a laser dot is placed on to the suspect.
Across England and Wales, forces recorded a total of 11,294 uses of the devices in 2016 - a rise of 9 per cent on the previous twelve months.
Red-dot was the most common type of use, accounting for 51 per cent of the total uses in 2016.
The use of tasers is controversial after a number of deaths. The police watchdog is still investigating the death of a former soldier who was tasered by officers from Dyfed-Powys Police in Llanelli in the summer of 2016.
But surveys suggest there is strong support among rank and file officers for more frontline officers to be issued with tasers.
Che Donald, from the Police Federation of England and Wales, said: "More than 80 per cent of uses were non-discharges - with the number of red-dot uses making up more than half of all Taser usage.
"This shows that by virtue of possession of a Taser, police officers are gaining compliance of members of the public.
"This is further evidence that greater roll-out of Taser across the service would be beneficial."
Policing Minister Brandon Lewis said: "Taser is an important tactical option to help specially trained police officers resolve potentially violent situations safely.
"However, any use of force by the police must be lawful and proportionate.
"These statistics provide important insight into the police's use of Taser.
"But we're going even further, and from April 1 all officers will be recording who Taser and other types of force are being used on, the location and outcome of any incident, along with the ethnicity and age of those involved bringing unprecedented transparency to police use of force."