Calls for awareness around ovarian cancer
9 February 2017, 07:11 | Updated: 9 February 2017, 07:16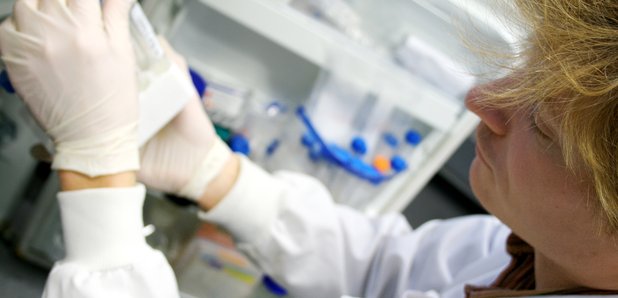 A National Assembly committee says there needs to be a sustained public awareness raising campaign to warn of the dangers of ovarian cancer.
Figures show 365 women were diagnosed in Wales in 2014, 238 died from the disease.

The Committee was told that yearly screenings using the CA125 blood test could detect ovarian cancer, but that it was not accurate enough to be used as part of a screening programme because positive results could also be due to other conditions.

The Committee considered other screening options including transvaginal ultrasound.

Members also examined the results of a trial published in 2015 which showed that either method could help reduce the number of women dying from ovarian cancer by a fifth. However, the study also included a large margin for error which could conceivably skew the results from anywhere between 0-40 per cent. The Committee heard that the trial has been extended in an attempt to produce more definite conclusions.

While the Committee concluded that it couldn't recommend annual ovarian cancer screening be introduced, it did make three recommendations:

- That the potential for a national screening programme be kept under review by the Welsh Government;

- That more work should be done with GPs to ensure that women who present with symptoms of ovarian cancer are referred for appropriate tests; and

- More should be done to improve awareness of ovarian cancer including identifying common symptoms and advising when people should seek medical help.

Mike Hedges AM, Chair of the Petitions Committee, said:

"The evidence we received from the petitioner was very powerful and on behalf of the Committee I would like to thank her for bringing the petition forward," said Mike Hedges AM, Chair of the Petitions Committee.

We took detailed evidence on the effectiveness of the CA125 blood test, and on other potential detection methods, but there simply isn't currently the weight of evidence to conclusively prove that lives would be saved by introducing an annual screening programme.

What we have recommended is that the potential for such a programme be kept under review.

We want to make sure that, when presented with ovarian cancer symptoms, GPs quickly refer women for the appropriate tests.

We also believe that more needs to be done generally to raise awareness of this horrible disease."

A Welsh Government spokesperson said:

"We will continue to keep under review the potential for new population screening programmes. The UK National Screening Committee provides independent, expert advice on population-based screening to all UK Ministers, and we will be guided by its recommendations in this area.

Our refreshed Cancer Delivery Plan for Wales sets out our approach to the early detection and appropriate referral for suspected cancers. We will consider the detail of the Committee's findings and respond in due course."