Drop in GCSE students getting top grades in Wales
24 August 2017, 12:15 | Updated: 24 August 2017, 12:21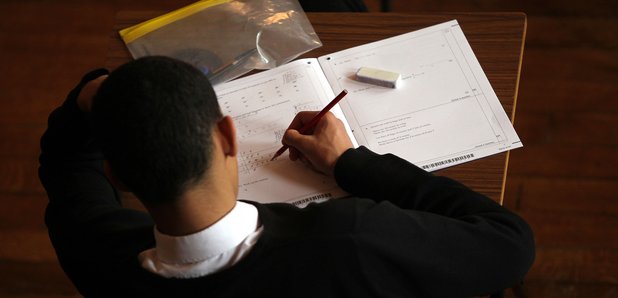 GCSE pass rates have fallen since new Wales only exams were introduced.
Pupils sat new Welsh-specific exams in English language, Welsh language, English literature, Welsh literature, maths - numeracy and maths.
Figures show the number of students achieving A* to G grades is down 1.8 percentage points to 96.9% while the number gaining the top A* to A grades has fallen by 1.5% to 17.9%.
GCSE results for A* to C grades have fallen more sharply by 3.8% to 62.8% compared to 66.6% in 2016.
Exams watchdog Qualifications Wales says changing entry patterns have contributed to the fall, with an influx of 15-year-olds sitting their exams early.
The number of Year 10 students, aged 15 and younger, who sat their exams this year is up by 57% while more Year 11 students have opted to not to resit exams taken in November again this summer.
Director of regulation at the body, Jo Richards said the changes made it difficult to reliably compare 2017 results with those from previous years.
She said: "Given the big shift in entry patterns for these qualifications, with a large influx of Year 10 students sitting their exams early and some Year 11 students having sat their exams in November, it's not possible to draw reliable conclusions from directly comparing summer 2017 and summer 2016 results.
"That's why we have focussed on results for 16-year-olds to make more reliable comparisons."
Welsh pupils are still being graded A* to G while their English counterparts are receiving numerical grades for some subjects.
Qualifications Wales said the introduction of the new qualifications had been "closely monitored" and it was confident standards had been maintained.
Overall entry for GCSEs in Wales this summer was up 14% from 262,542 in 2016 to 298,370 in 2017.