Heart investigation finds fewer armed officers in Wales
24 May 2017, 13:37 | Updated: 24 May 2017, 13:45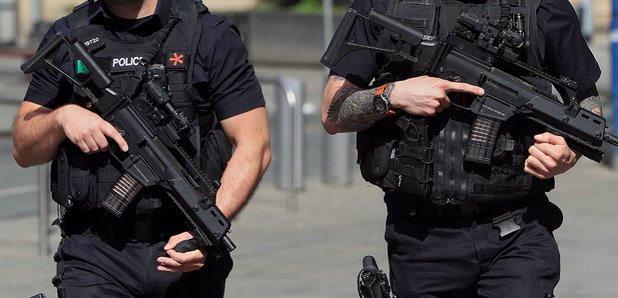 An investigation by Heart has uncovered a drop in the number of armed police officers in Wales.
It comes as more armed officers are being deployed on the streets, as the terror threat level in the UK has been raised to "critical" meaning an attack is imminent.
Figures obtained by Heart under the Freedom of Information Act show there are currently 228 firearms officers in Wales, compared to a total of 252 in 2014, a drop of 11 per cent in the last three years.
South Wales Police currently has the highest number of armed officers with 85, compared to 59 in Dyfed-Powys, 43 in North Wales and 41 in Gwent.
The forces say the reduction is likely to be because of "natural wastage" where officers retire or are redeployed in other roles.
But Professor of Police Sciences at the University of South Wales, Colin Rogers, thinks the drop in the number of armed officers may be because some are reluctant to volunteer as they fear the repercussions for using their weapons: "The system we have in the UK is that we ask 'ordinary' officers to volunteer to become firearms officers.
"When a firearms officer shoots someone they may have to, and it should be this way, explain why they discharged their weapon in a court of law. They have to undergo quite a rigorous accountability process and are answerable to law.
"We need that accountability, but there does seem to be a problem in attracting people to become firearms officers because of this system where officers may end up in front of a jury."
Professor Rogers also has concerns about more officers being issued with weapons: "It significantly alters the balance in our country between the police and the community. If the police started to carry guns routinely it will substantially alter the relationship."