First Minister calls DUP deal "unacceptable bung"
26 June 2017, 14:13 | Updated: 26 June 2017, 19:04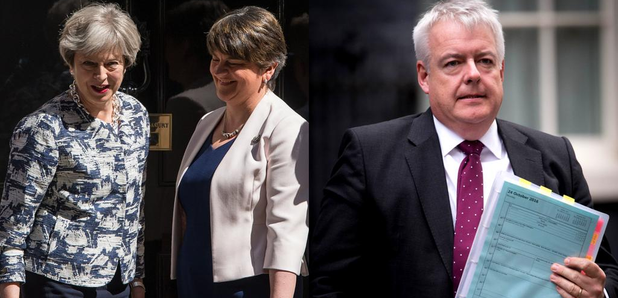 The First Minister says the deal between the Conservatives and the Democratic Unionist Party is unacceptable.
Carwyn Jones described the agreement as a "straight bung" and "a short-term fix which will have destabilising consequences".
The agreement will be in place for the length of this Parliament and includes £1 billion in new funding for Northern Ireland.
But as the money is being allocated as part of the block grant to Northern Ireland, there will be no extra funding for other parts of the UK.
Theresa May said the agreement would "enable us to work together in the interests of the whole United Kingdom, give us the certainty we require as we embark on our departure from the European Union, and help us build a stronger and fairer society at home".
But the First Minister said: "Only last week we were told that the priority was to 'build a more united country, strengthening the social, economic and cultural bonds between England, Northern Ireland, Scotland and Wales'.
"This deal flies in the face of that commitment and further weakens the UK, and as currently drafted all but kills the idea of fair funding for the nations and regions.
"It is outrageous that the Prime Minister believes she can secure her own political future by throwing money at Northern Ireland whilst completely ignoring the rest of the UK.''
DUP leader Arlene Foster said the deal included financial support on top of almost £500 million previously committed to Northern Ireland.
She said the money will be used to boost the region's economy and invest in new infrastructure, health, education and other sectors.
Plaid Cymru MP Liz Saville Roberts accused the Government of treating the Welsh people like "third class citizens''.
"If this Government can hand out £1 billion to Northern Ireland in times of such austerity then I would ask on behalf of the people of Wales, where is the £1.7 billion which is now so evidently our right?"