First Minister of Wales picks his Cabinet
13 December 2018, 19:16 | Updated: 13 December 2018, 19:18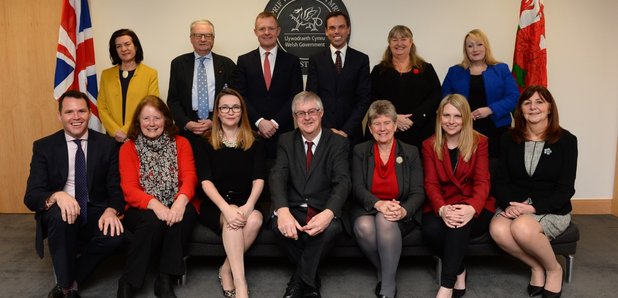 Mark Drakeford's decided which AMs he wants in his top team.
The First Minister said:
"It is an enormous privilege for me to be appointed First Minister of Wales. Every
leader needs a strong team around them, and I am delighted to introduce my new cabinetwhich is a
strong mix of experience, talent and passion.
"

Brexit is our greatest challenge. In the extraordinary and regrettable circumstances created by the UK Government, it is vital that we prepare for all outcomes. I have retained Ministers in posts where their experience of Brexit preparation is key, while creating a new post to reflect the priority I attach to international relationships and trade.
"As a government we will continue to speak up for Wales, to fight our country's corner and make sure the government in London is never in any doubt at all of what matters to the people of Wales."
Cabinet and Deputy Ministers
Vaughan Gething
Minister for Health and Social Services - Y Gweinidog Iechyd a Gwasanaethau Cymdeithasol
Julie Morgan
Deputy Minister for Health and Social Services - Y Dirprwy Weinidog Iechyd a Gwasanaethau Cymdeithasol
Eluned Morgan
Minister for International Relations and the Welsh Language - Gweinidog y Gymraeg a Chysylltiadau Rhyngwladol
Dafydd Elis-Thomas
Deputy Minister for Culture, Sport and Tourism - Y Dirprwy Weinidog Diwylliant, Chwaraeon a Thwristiaeth
Ken Skates
Minister for Economy and Transport - Gweinidog yr Economi a Thrafnidiaeth
Lee Waters
Deputy Minister for Economy and Transport - Dirprwy Weinidog yr Economi a Thrafnidiaeth
Julie James
Minister for Housing and Local Government - Y Gweinidog Tai a Llywodraeth Leol
Hannah Blythyn
Deputy Minister for Housing and Local Government - Y Dirprwy Weinidog Tai a Llywodraeth Leol
Rebecca Evans
Minister for Finance and Trefnydd - Y Gweinidog Cyllid a'r Trefnydd
Kirsty Williams
Minister for Education - Y Gweinidog Addysg
Lesley Griffiths
Minister for Environment, Energy and Rural Affairs - Gweinidog yr Amgylchedd, Ynni a Materion Gwledig
Jeremy Miles
Counsel General Designate and Brexit Minister - Y Darpar Gwnsler Cyffredinol a'r Gweinidog Brexit
Jane Hutt
Deputy Minister and Chief Whip - Y Dirprwy Weinidog a'r Prif Chwip