How Can Wales Make it to France 2016?
2 September 2015, 11:24 | Updated: 4 September 2015, 16:12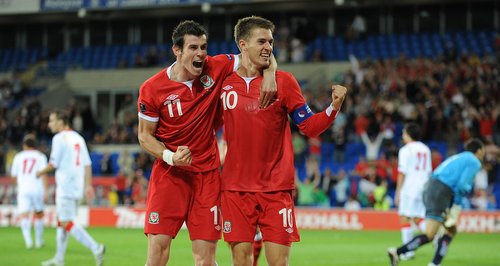 Wales have made a spectacular start to qualifying for the 2016 European Football Championships in France.
In seven games Wales have picked up 17 points and sit top of the qualifying group.
With the top two teams in each qualifying group winning a place at the tournament in France next summer, how can Wales confirm their place?
Wales Beat Israel at the Cardiff City Stadium
If this happens, Wales will qualify.
Whatever happens in the other games, beating Israel means they have no chance of catching Wales - and we will qualify either in first or second place in the group.
Wales draw against Israel at the Cardiff City Stadium
If Wales only manage a draw against Israel this puts them on 18 points. Cyprus could reach this total, if they win all their remaining games - but due to Wales' performances against them, if this were to happen - Wales would qualify ahead of them.
Meanwhile, in this scenario Israel would be able to reach a potential total of 19 points. This leaves Wales needing just a point from the final two games against Bosnia away and Andorra at home.
If Israel did go on to finish on 19 points along with Wales, Wales would go through based on the fact we have beaten Israel away 3-0.
Wales lose against Israel at Cardiff City Stadium
This leaves Israel in a position to finish on a maximum of 21 points. However, if this were to happen they would have to beat Belgium meaning that Belgium could only reach a maximum of 20 points. If Wales gain another win in the final two games against Bosnia and Andorra this would put Wales on 20 points too - but the head-to-head record means Wales would qualify ahead of Belgium
Meanwhile, a draw in the final game between Belgium and Israel could see Israel finish on 19 and Belgium on 21 points. This means that so long as Wales pick up another win in the final two games, they would qualify in second behind Belgium.
So in short, if Wales lose against Israel - a win away against Bosnia or at home over Andorra in the final game would guarantee qualification.
In a nutshell - what do Wales need?
Win against Israel = Qualification confirmed
Draw with Israel = Need at least a draw from the last two games
Lose to Israel = Need to win at least one of the last two games