Police increase stop and search powers
18 September 2018, 12:12 | Updated: 18 September 2018, 12:20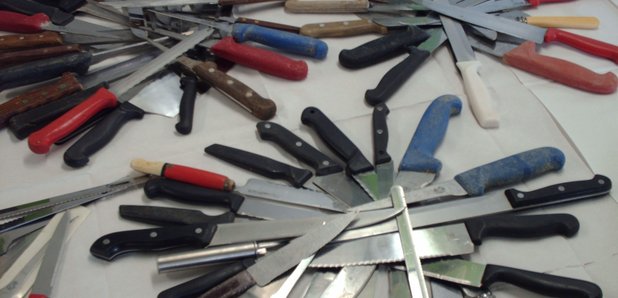 All forces in Wales are stepping up efforts to tackle the number of knives on our streets.
Operation Sceptre is a countrywide operation which aims to reduce the number of illegal knives in circulation.

From today, up until Monday 24th September, a knife amnesty will begin. People are being encouraged to bring knives, without fear of punishment, to police stations across Wales where special amnesty disposal bins will be located.
Gwent Police say their officers will also be increasing the use of their stop and search powers by actively stopping and targeting those acting suspiciously on our streets.
Superintendent Glyn Fernquest said: "Crimes involving knives are rare in Gwent but we are taking positive active to try and prevent offences by removing them before any harm is caused. I hope this amnesty is an opportunity to cleanse our streets of these weapons."
"If you know a friend or family member who carries a knife or similar, urge them to surrender it as part of the amnesty. Every knife handed in is one less that can potentially be used on the streets of Gwent."
Dyfed Powys Police say the force wants to educate people about the laws surrounding buying and carrying knives and will be working with partners such as Trading Standards and Crimestoppers to combat the issue.
Superintendent for specialist operations Craig Templeton said: "Carrying a knife is a crime which brings that added risk that a minor issue can escalate into something much more serious and potentially life changing."
North Wales Police say their three previous campaigns held in February 2018, July 2017 and October 2017 have seen almost 900 knives being surrendered across the region.
People living in Conwy and Denbighshire are also able to surrender their knives at recycling centres across both counties.
Councillor Mark Young, Denbighshire Council's Lead Member with responsibility for Community Safety said: "Making our streets safer is a key priority for all of the agencies involved and we are proud to play our part in providing facilities for people to dispose of their knives safely"