See Super Cute Seals Released Back to Sea
Two gorgeous grey seals have been released back into the wild after round the clock RSPCA care.
The pups, one male and one female, had been brought into RSPCA care back in October separately, and were both in their white (lanugo) coats and so were very young.
The female was collected from St Justinian's near St Davids, as she was found to be very skinny.
The male seal was found at Freshwater West and was found to have some bite marks.
The sick seal pups had been transferred to an RSPCA wildlife centre where they were given around the clock care and rehabilitation.
On Thursday 11th February they were taken in carriers to Port Eynon Beach on Gower, where they were released.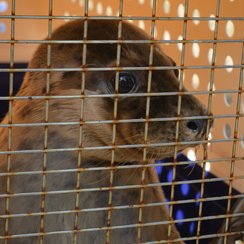 RSPCA inspector Keith Hogben said: "The seals have been cared for and given the appropriate rehabilitation until they reached their optimum release weight.
"It is the most rewarding part of the job, knowing you have helped these animals return to the wild where they belong.
"Without intervention they would not have made it. It was great to see them swim off into the sea."
These pups were obviously in distress when found but not all lone seal pups have been abandoned and are unwell. If you find a seal pup that looks fit and healthy and shows no signs of distress monitor it first from a safe distance for 24 hours.
Calls about sick, underweight and injured seals can be logged with the RSPCA national cruelty and advice line on 0300 1234 999.