Two men convicted of fatal truck crash
22 December 2016, 12:27 | Updated: 22 December 2016, 13:46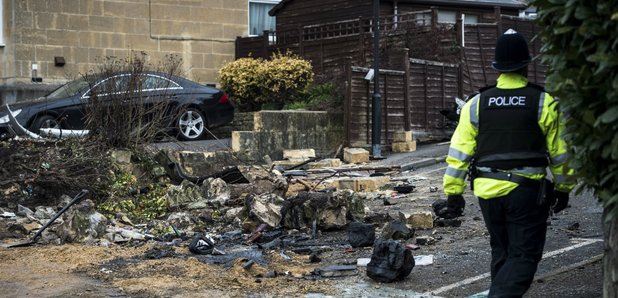 Two men have been convicted of manslaughter after a tipper truck crashed in Bath which killed four people, including a 4 year old girl and three men from South Wales.
The truck was carrying aggregate when it crashed into cars and pedestrians on a steep hill on Lansdown Lane in Bath in February last year.
Four-year-old Mitzi Rosanna Steady was one of those killed as she was walking with her grandmother.
Robert Parker from Cwmbran and Philip Allen and Stephen Vaughan from Swansea also died when the truck smashed into their car.
The owner of the haulage firm 29 year old Matthew Gordon, and mechanic 55 year old Peter Wood, have both been found guilty of manslaughter at Bristol Crown Court.
The driver of the truck Phillip Potter was cleared of all charges including causing death by dangerous driving.
Sian Vaughan's husband Steve was killed, she says she still feels lost without him.
"In the last 22 months of complete unexpected hell and the darkest saddest moments of my life, I know how lucky I had been to be Steve's wife.
"On the day I walked down the aisle with Steve, if someone had told me this was to happen and that he was to have been taken away from me, I would have still walked down the aisle; because four years of being part of Steve's life was more luck and happiness than I could have ever imagined.
Denise Parker, wife of Robert Parker, said: "Robert was a wonderful, kind, caring husband; a truly amazing Dad and a loving brother.
"He was taken from us so suddenly, with no time to say goodbye.
"In my personal opinion this tragedy could have so easily been avoided if people had just done the right thing.
Louise Allen, wife of Philip Allen, said: "Phil was a loving husband, father and grandfather who enjoyed life.
"That life was taken away from him in horrific circumstances by those responsible.
"Our family life has been destroyed. We miss him so much all the time. This tragedy should never have happened.
Trial judge Mr Justice Langstaff remanded Gordon and Wood in custody and said he would pass sentence in January.