Union hoping for deal to save Port Talbot jobs
7 December 2016, 08:34 | Updated: 7 December 2016, 08:48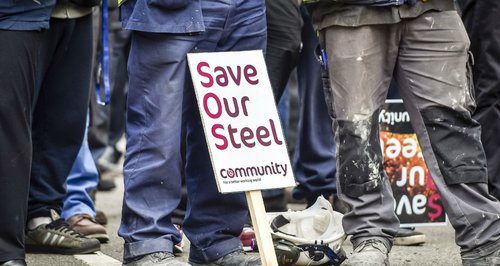 A union representing steelworkers in Port Talbot says it is confident a deal will be reached in principle with Tata Group today, securing thousands of jobs and investment.
There has been uncertainty in the town since the plant was put up for sale in March, amid falling steel prices.
The UK and Welsh governments stepped in to offer financial support, but the company's pension scheme put buyers off.
Although specifics of the deal have not been released, Sky sources understand the plans would secure around 4,500 jobs, the same level of steel production, and investment in both blast furnaces beyond 2020.
However, there could be some changes to pay and the current pension scheme.
Councillor Anthony Taylor, who has worked at the steelworks for four decades, said: "It is an important industry for the national economy and national security.
"It needs to be sustained. We need the Welsh government and the Westminster government to step up and produce promises now.
"Let's not talk the talk, let's walk the walk."
Steel has been produced at Port Talbot for a century. In terms of workforce and output, it is the biggest plant of its kind in Britain, and is at the very heart of the local community.
Residents at the town's midweek market, many of whom have relatives employed by Tata Group, said they hoped there would be some positive news in time for Christmas, following a year of worry.
The plans will be outlined to union representatives from Community, Unite and the GMB today, and they will decide whether or not to back them.
However, the final decision is likely to be put to a ballot of all staff in the new year.
Stephen Kinnock, Labour MP for Aberavon, told Sky News: "I know what we are all hoping and praying for is a positive outcome...that Community (the union) and Tata Group meet half way to make the long term commitment, allowing this vital industry that is the basis of the cars that we drive, the offices we work in, houses we live in, even cutlery we eat from ... that vital foundation industry must be give a safe and certain future."
Tata Steel employs around 7,000 workers across Wales.
Other plants that would benefit from a deal being reached are Llanwern, Trostre, Shotton, Hartelpool, Corby and plants in the Midlands.
(c) Sky News 2016