Royal Welsh regiment finally gets its goat!
7 March 2018, 12:08 | Updated: 7 March 2018, 12:15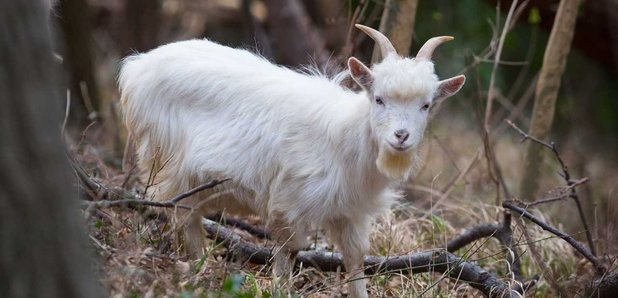 The Royal Welsh has finally managed to select its new Regimental Goat, after weeks of trying to track him down.
Fusilier Shenkin IV has now officially begun his training with 3rd Battalion The Royal Welsh at Maindy Barracks in Cardiff.
Soldiers from the Royal Welsh traveled to the Great Orme in Llandudno to select the new Regimental Goat following the death of their old mascot Lance Corporal Shenkin II.
But the process was much trickier that first thought with the army taking several weeks to catch Shenkin IV from the Great Orme in Llandudno.
Shenkin was grazing on dense shrubland on the steep slopes, which while favourable for goats, proved more difficult for humans.
Captain Tom Sobik said: "We were very keen not to rush the process and it was important the proper procedures were observed.
"The welfare of the animals was paramount and under the advice of an RSPCA vet we tried all kinds of ways to encourage Shenkin to a safe spot.
"Despite numerous attempts, we decided it was best to postpone, but we are finally relieved we've got our goat.
"There's no doubt we've got a character on our hands.
"Shenkin is a Welsh icon and he will go on to attract as much attention as his predecessors and serve with distinction.
"We are very thankful to the Great Orme wardens and the RSPCA vet for all of their support and patience over the last few weeks."
Shenkin is most famous for his appearances at the Principality Stadium leading out the Wales rugby team during the Six Nations.
Goat Major Sergeant Mark Jackson said Shenkin IV has now begun an immediate six-months training schedule.
"There was a bit of a run around on our first attempt but it's all been worth it.
"There was that cheeky look in his eye when I first saw him and we knew immediately which member of the Royal Herd we were keen on.
"It's all about getting Shenkin used to different noises now and being around people. I take great care in making sure he's fully prepared to face the public and, when he is, he'll be in great demand."
Shenkin IV's first public appearance is due at the National Armed Forces Day event in Llandudno on Saturday, June 30.
Sgt Jackson said: "That will be a very special day as he'll be on home turf during the most high-profile public military event of the year."