Martine McCutcheon's Cheesy Acting Past Resurfaces...
16 August 2017, 16:32 | Updated: 16 August 2017, 17:26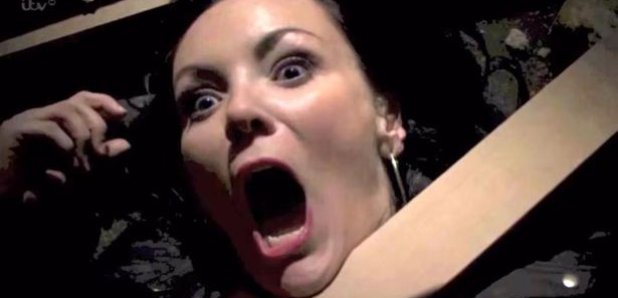 She had the most bizarre Midsomer Murders death ever.
She's currently on the comeback trail with her brand new album Lost and Found. But it's Martine McCutcheon's acting past which caused a stir on Twitter last night.
Viewers who checked out the Midsomer Murders repeat on ITV were in for a treat. The 2013 episode of the long-running hit featured Martine as minxy dairy worker Debbie Moffett. Unfortunately for Debbie, she was killed off within the first 10 minutes.
This unfortunate end was most notable for the unusual weapon used – a wheel of cheese. Yes, Midsomer is renowned for its hilariously inventive deaths. Other victims on the show have met their maker thanks to electrocution on an exercise bike; being guillotined by a film prop; suffocating after being wrapped up in bandages, Mummy-style and being covered in truffle oil and attacked by a wild boar. They're certainly imaginative!
But Martine's exit is one to tell the grandkids about. It really was un-Brie-lievable.
Her character's first scene saw her storming into a mother's meeting and threatening to reveal some sordid secrets about the women in her village. Ooohh.
Soon after she headed off to a cheese producer where she met her unlikely end.
"Well I'm here," she said as she walked through the cheese warehouse. "So come on then you wanted to have it out. I should've known you wouldn't have had the guts."
But as she walked deeper into the room, she called out to tell whoever she was meeting that she wasn't in the mood for games.
Poor Debbie then had a shelving unit knocked into her and she lay dazed, trapped beneath.
Then in a sinister twist, an unnamed assailant picked up a giant cheese wheel and walloped her over the head with it, killing her instantly. We Camembert it.
Viewers took to Twitter to share the hilarity.
Probably the greatest ever death scene. Death by cheese #midsomermurders

— Electric Style (@mariemcc83) August 15, 2017
O.M.G. Martine McCutcheon just got cheddered to death on #midsomermurders #cheesy pic.twitter.com/KlhWNXDIhd

— Pete Raiders (@peteraiders) August 15, 2017
Of course, this isn't the first time Martine has had a memorable death on screen. In the late 90s she left EastEnders in dramatic scenes which saw her hugely popular character, barmaid Tiffany Mitchell, run over by Frank Butcher. That really was hard cheese.
Watch more: Tiffany Mitchell Dies On 'EastEnders'
We think if Martine's agent ever suggests she try and surpass that Midsomer moment, she'd Feta find a new agent.
And if you think Martine's bothered about her acting past resurfacing, we can tell you now that she doesn't give an Edam.