The Hertfordshire County Show 2018
30 April 2018, 12:00 | Updated: 10 May 2018, 10:12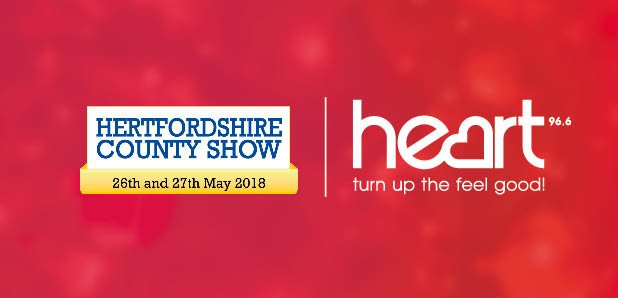 The show as now been officially running for 132 years! For the first time ever, Heart Hertfordshire are this year's official media partner. The Heart Angels will be amongst the 35,000 expected to attend the event over the two days. Heart Breakfast's Daniel Fox will be broadcasting live from the event on Sunday the 27th of May.
Make sure you stop by to grab a picture with Heart Hertfordshire's "Big Red Tractor", have a go on our outdoor games and enter our free competition to WIN £150 on Tuesday the 29th of May during Heart Breakfast.
The show has now been crowned the biggest event in Hertfordshire, anticipating over 35000 guests over the Bank Holiday. Not only is it a great way to interact with and support local traders, it's also a brilliant way to see all the traditional skills that keep Hertfordshire's countryside's looking beautiful.
New for 2018 is Happy's Big Top Circus. The County Show have had a big top before, but this one is bigger and better than ever! Happy's is an all human circus featuring amazing, international artists including acrobats, aerialists, speciality acts, magic and the ever popular Happy's Circus clowns and much, much more!
With over 70 hours of family entertainment at the how, and all of it being free, it's a perfect day out for you and the family. For a list of all the attractions head to the website here or check out a few of them listed below:
- Mr Alexander's Travelling Show
- New – Heavy Horse Display to Music
- The Sheep Show
- The Hertfordshire Farmyard
- Hurry Scurry Charity Event
- The Hertfordshire Farmers Display
- The Dinky Darby
- Trinity Foot and South Herts Beagles
Don't forget to check out our competition on the WIN section now to WIN a VIP family ticket, a Meet & Greet with the cast from Happy's Big Top Circus, and food from the lovely street vendors in the 'Eat Local' section of the show.