Terms: 12 Digital Days of Christmas 2018
28 November 2018, 16:06 | Updated: 29 November 2018, 14:12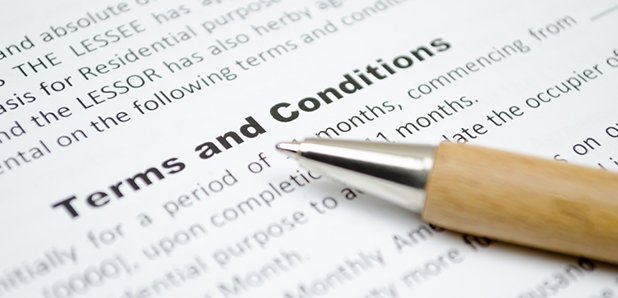 [12 Digital Days of Christmas (2018)] on [Heart Hertfordshire], [Nov to Dec, 2018]
RULES
The following rules ("Specific Rules") together with the general competition terms and conditions (which can be found at https://www.heart.co.uk/terms-conditions/) (the " Competition Terms and Conditions") of Communicorp UK (as defined in the Competition Terms and Conditions) apply to '[12 Digital Days of Christmas]' radio competition (the "Competition") which will run from [3rd December 2018] to [21st of December 2018] on [Heart Hertfordshire] (the "Radio Station").
Anyone who enters the Competition (an "Entrant") will be deemed to have read and accepted the Specific Rules and the Competition Terms and Conditions and will be bound by them.
Details of the Competition:
To enter the Competition an Entrant must go online to [https://www.heart.co.uk/watfordhemel/] and register their details. Online entry will open at [00:01] on the 3rd December 2018 on and close at [23:59] on the 21st December 2018.
Listeners must head to the Heart Hertfordshire website, answer the multiple-choice question and then be in with a chance of winning all 12 prizes.
Listeners will be selected at random online. Winners will be contacted within 30 days of the competition closing. Listeners will be called 3 times, if you do not answer after 3 calls, we will move on to the next person who answered the question correctly, again selected at random until we have a winner who has answered within 3 calls.
Eligibility:
Entry's must be 18 years or older and live within Hertfordshire or a 5-mile radius of the county.
Entry is restricted to one entry per person; duplicate entries will be excluded from the Competition.
Prize:
1. Caving & High Ropes for 2 at the XC in Hemel Hempstead. Times and dates are subject to availability and must be booked within 2 months of the competition closing date.
2. £100 Amazon Vouchers, these cannot be substituted or divided into separate denominations or cash alternative.
3 Tickets are nonrefundable.
The Event Promoter will not be held responsible for any tickets that are lost or stolen prior to the event. Make sure you keep your tickets safe, they are essentially cold hard cash! If you lose them or they are stolen, we will not be able to replace them.
The Event Promoter shall not be liable for any loss or damage arising from your purchase of the ticket or attendance at the event including any disappointment or loss or damage to any personal property you bring to the venue (we advise you not to bring anything of value to the event) but excluding any liability for death or personal injury caused as a result of the Event Promoters negligence, which shall be unlimited. However, if found in any circumstances to be liable, the Event Promoter's liability shall be limited to the price paid for the ticket to the event.
All persons under 16 attending the event must be accompanied by a responsible adult.
To ensure everyone's safety, the Event Promoter may conduct occasional security searches and ask to look in your bag prior to entry into the Event. Please do not be offended.
The Event Promoter reserves the right to change the programme line up/artists without notification or make an alteration to the advertised details for the performance at short notice. If this happens then the Event Promoter is not obliged to refund your money or exchange tickets.
The Event may be professionally filmed or recorded, therefore in attending the event you consent to being filmed as a member of the audience. If you have any objections, please contact a member of Event Promoter team on entry.
The Event Promoter reserves the right to open the gates at other times in the interests of safety. 14. No glass can be brought onto site, in addition, gazebos, tented structures, barbecues, fires, cookers, lawn candles or naked flames are not permitted and will be confiscated prior to entry. No ball games or similar are permitted at the venue.
Performances will take place in all weathers. No seating or shelter is provided. If raining you may want to bring an umbrella!
No animals are allowed into the venue apart from service dogs.
You are not permitted to bring Alcohol onto site, this is a condition of our license, however a vast range of Premium alcoholic and non-alcoholic drinks will be on sale from our bars.
4. Prize is for one Gift Membership
Gift membership lasts 12 months from activation the Ggft membership must be activated by 31st January 2019 General membership T+Cs http://www.zsl.org/terms-and-conditions/shopping-terms-and-conditions#membership
Frequently Asked Questions
5. Prize is a £100 gift card for London Designer Outlet (LDO) in Wembley Park, valid for one year from date of issue, No cash alternative, must be 18+ to enter. No alternative to prize Photo ID required to claim prize, Prize must be collected in person from Guest Services at London Designer Outlet, Free delivery via DropIt of any items bought at LDO on same day, subject to DropIt T&C. Delivery to mainland Britain only (full postcode required)
6. The prize draw is open to all UK residents aged 18 years or over, except employees of Watford Borough Council, their families, agents or any third party directly associated with administration of the prize draw.
The prize draw is free to enter and no purchase is necessary.
Watford Borough Council accepts no responsibility for entries not successfully completed due to a technical fault, technical malfunction, computer hardware or software failure, satellite, network or server failure of any kind OR If for any reason a technical interruption, fault or site failure occurs when submitting online, Watford Borough Council does not take any responsibility for incomplete submissions and any incomplete submissions will not be considered valid for entry into the prize draw. Watford Borough Council accepts no responsibility for any submissions which are not completed for any reason.
The prize for the winner is non-exchangeable, non-transferable and no cash alternative is offered.
The prize is supplied by Watford Borough Council who reserve the right to replace the prize with an alternative prize of equal or higher value if circumstances beyond the Watford Borough Council's control makes it necessary to do so.
The decision of the Watford Borough Council regarding any aspect of the prize draw is final and binding and no correspondence will be entered into about it.
Participants are deemed to have accepted and agreed to be bound by these terms and conditions upon entry. Watford Borough Council reserves the right to refuse entry, or refuse to award the prize to anyone in breach of these terms and conditions.
Watford Borough Council reserves the right to hold void, cancel, suspend, or amend the promotion where it becomes necessary to do so.
Insofar as is permitted by law, Watford Borough Council, its agents or distributors will not in any circumstances be responsible or liable to compensate the winner or accept any liability for any loss, damage, personal injury or death occurring as a result of taking up the prize except where it is caused by the negligence of Watford Borough Council, its agents or distributors or that of their employees. Your statutory rights are not affected.
Winners may be asked if they would like to participate in publicity related to the prize draw, which may include the publication of their name and photograph in any media.
Personal data supplied during the course of this promotion may be passed on to third party suppliers only insofar as required for fulfilment/delivery/arrangement of the prize. It will not be processed or stored for any longer than necessary for Watford Borough Council to ensure that the winner receives the prize.
The prize draw will be governed by English law and entrants to the prize draw submit to the jurisdiction of the English courts.
7. Terms and conditions apply. Valid Monday to Thursday only at Tring, Henlow, Forest Mere, Springs or Eastwell Manor a Champneys Hotel and Spa. Prize must be booked and taken within 6 months from the date of issue, subject to availability. Guests must be 16 years or over, non-refundable and non-transferable. Travel to the spa is not included. Cannot be used in conjunction with any other offer. Prize value worth up to £238.00.
8. 2 x tickets to 'The Night Before' – a HAS members and invite only event featuring dynamic and thoughtful entertainment, including a free drink and BBQ.
1 x Family (2 adults and 3 children) entry to the County Show on both Show days
1 x Family access to the Members Marquee and Lawn, with private bar and restaurant serving up breakfast, lunch and afternoon tea. The Members Lawn has the best views of the Jubilee Arena, featuring the Show's headline acts, as well as the renowned Show Jumping ring.
1 x Members parking pass for both days in may. All Tickets are sold subject to availability and to these terms.
A valid Ticket must be produced for entry to an Event. Removing any part of, altering or defacing the Ticket may invalidate your Ticket.
Please keep your Tickets safe. We will not be responsible for any Ticket that is lost, stolen or destroyed. Refunds will not be made on lost or unused tickets.
Duplicates may be issued at the discretion of the Organiser. If duplicates are issued, we may charge a reasonable administration fee.
Where a concession is claimed, proof of identity and entitlement (for example of age or student status) may be required.
Ownership or possession of a Ticket does not confer any rights (by implication or otherwise) on you to use, alter, copy or otherwise deal with any of the symbols, trade marks, logos and/or intellectual property appearing on the Ticket.
The Organiser reserves the right to make alterations to the published Event programme where reasonably necessary.
It is your responsibility to ascertain whether an Event has been cancelled or re-scheduled and the date and time of any re-scheduled Event.
Where an Event is cancelled or re-scheduled, we will use our reasonable endeavours to notify you using the details you provided us at the time of ordering. We cannot guarantee that you will be informed of such cancellation before the date of the Event.
For more information click the link: https://hertsshow.yourticketbooking.com/termsAndConditions/1029;jsessionid=82F5B5070A9996D8775FCDEDBBFACE5A
9. Hamper to be sent to winner's address, You must be 18 years of age or older, table to be booked within 4 months from the 23rd of December.
10. The vouchers included within the Maltings are £25 to spend at Body Shop, Clas Ohlson £25, H&M £25, Hotel Chocolat £25. These vouchers cannot be exchanged for monetary value and must be used by the 10th of December 2019.
11. 12-month gym membership at Everyone Active – Watford leisure Centre Starting from January 2018. This cannot be exchanged for monetary value. This is a single site membership and will only provide access to the stated Centre. It may be necessary to undertake maintenance to the facility and its equipment at any time, this may alter hours of business or chance activity programmes. We expect our members to behave in a considerate manner and will not accept any aggressive behaviour towards other members or our colleagues. We reserve the right to refuse admission for members behaving in such a manner.
Subject to the final paragraph of this section, we will not compensate you for any loss or damage you may suffer where the same is attributable to:
1. Your own fault
2. A third party unconnected with our provision of services under this agreement; or
3. Events which neither we nor our suppliers could have reasonably foreseen or forestalled even if we had taken all reasonable care.
Nothing in these terms and conditions is intended to limit or exclude our liability for death or personal injury caused by our negligence of for fraud, fraudulent misrepresentation or any other liability which cannot be excluded by law.
12. Meal for 2 in the Tudor Restaurant at The White Hart Hotel St Albans Monday to Saturday with bottle of Prosecco Expires 6 months from issue excludes Valentine's Day, Mother's Day and Bank Holidays.
9. Communicorp UK reserves the right to substitute the prize with another prize at its absolute discretion.
Please ensure that this description is exactly as in the agreement with the prize provider
Please contact the compliance manager if you need any advice or if the competition/mechanic is complicated.