The Challenge
15 September 2017, 10:03 | Updated: 15 September 2017, 10:43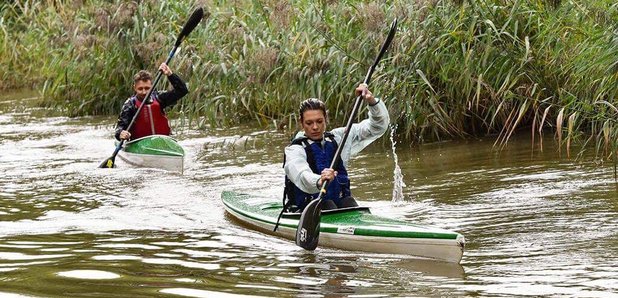 What is Heart's Kayak Challenge?
Gemma Hill from Heart Breakfast is taking on her BIGGEST CHALLENGE EVER. To Kayak from London to Birmingham in just 5 days! That's a staggering distance of over 150 miles.
On Monday 2nd October she will start from London, travelling up the Grand Union Canal in a one person Kayak, hopefully arriving back in Birmingham on Friday 6th October, Global's Make Some Noise Day, which we'd love you to join us for too.
Why would you want to do something so ridiculous?
To make an incredible difference together for Global's Make Some Noise. You'll be able to hear this epic journey unfold both on Heart as well watching it on heart.co.uk, Facebook, Instagram and Twitter.
There is one massive way in which you can show your support for Gemma and that is by donating a bit of cash to help change young lives for Heart's charity Global's Make Some Noise. We support small but brilliant charities both here in the West Midlands and right across the UK which help youngsters and their families living with illness, disability or lack of opportunity. Your donation is literally changing lives.
It's really easy to donate:
To donate £5, Text GEMMA to 70766
Or donate here
100% of your donation will go to Global's Make Some Noise. If you're under 16 please ask the bill payer's permission first. Standard network. charges may apply. Terms and Conditions are at makesomenoise.com
Service Provider: Global Radio Services Ltd., 30 Leicester Square, London, WC2H 7LA. If you are having problems using our text donation service or feel a donation has been taken from your bill unfairly, please have a look at our FAQs at http://www.makesomenoise.com/premium-rate-phone-text-faqs/ or alternatively contact our customer helpline on 03333 212 196. Global's Make Some Noise (registered charity 1091657 (England & Wales) & SC041475 (Scotland)) is registered with the Fundraising Regulator.
Please be as kind as you can. Gemma has already drunk way too much canal water in her training, so if you can spare the cost of a round of drinks, it will genuinely make a huge difference.
Heart's Kayak Challenge is powered by Selco Builders Warehouse and is being supported by many incredible event partners.