Armed Police Patrol West Midlands Trains
26 May 2017, 11:42 | Updated: 26 May 2017, 11:44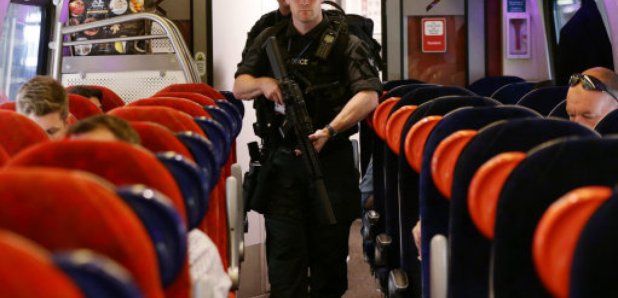 For the first time, armed officers are on board train journeys across Birmingham.
British Transport Police announced the measure in a bid to "disrupt and deter criminal activity'' on the rail network after the UK terror threat level rose to critical in the wake of the Manchester attack.
Armed officers have been patrolling on the London Underground network since December, but this is the first time they will travel on trains outside the capital.
Some armed police were seen on a journey from London Euston to Birmingham New Street on Thursday afternoon.
VIDEO: UK terror threat at 'critical' sees armed police on @VirginTrains from London to #Birmingham #HeartNews pic.twitter.com/n8U5gqkvI3

— West Mids News (@HeartWMidsNews) 25 May 2017
It's the first time armed police have been deployed to be on-board the train as opposed to just at various train stations.
BTP Chief Constable Paul Crowther said the deployment of armed officers will be focused on rail routes serving "big city locations'' but will not be limited to those.
"The aim is for it to be unpredictable and widespread across the network, to create a deterrent and an immediate response to terrorists who may be thinking of (attacking) the transport network,'' he told the Press Association.
"These are normal officers,'' he said. "They are very approachable. They are there to engage with people, to talk to them about any concerns they've got. I'd really encourage people to approach them.''
Meanwhile, hospitals in England have been told to be ready for another attack and trauma units are on standby ahead of the bank holiday after the attack in Manchester.
That includes University Hospital in Coventry and Birmingham's Queen Elizabeth.
Firearms officers were called to the QE last night after reports of a man acting suspiciously. A 46-year-old man was searched but not arrested.
As a precaution, access to parts of the hospital was restricted for around 50 minutes. The man was not arrested and the call to police by security staff was made in good faith.