Birmingham Terrorist Jailed For Making Bomb Out Of Fairy Lights
9 October 2017, 17:33 | Updated: 9 October 2017, 17:39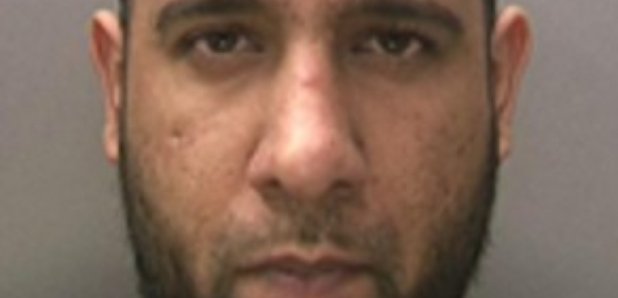 An Islamic State supporter from Birmingham who tried to make a bomb from fairy lights after becoming "bedroom radicalised" has been jailed for life.
Zahid Hussain considered targeting railway lines after viewing hundreds of IS images of the war in Syria.
His trial was told he wrongly believed his non-viable pressure cooker "bomb" - packed with 1.6kgs of shrapnel - was capable of causing devastation.
Sentencing the "dangerous" 29-year-old to a minimum term of 15 years at Winchester Crown Court on Monday, Mr Justice Sweeney told Hussain it was clear he had been "strongly committed" to carrying out multiple bombings.
Hussain used a bedroom in his parents' house as his "base of operations and improvised laboratory" where he researched and attempted to assemble explosives.
After his arrest in August 2015, searches uncovered evidence he had carried out reconnaissance of woods near the house in Naseby Road, Alum Rock, Birmingham, including the main London rail line.
Books on guerrilla warfare were also discovered, including one which talked of mounting attacks on railways.
The judge said that had his device been viable, it would have been capable of causing a "significant explosion".
He added: "If detonated in a crowded area it would have been potentially fatal to those within metres of it and would have potentially caused serious injury among those up to 10 metres away."
Ex-doorman Hussain had attempted to create a remote-control detonator with a wireless doorbell, and had successfully manufactured four igniters from fairy lights.
CCTV, later recovered, showed him climbing down a storm drain hear a high-speed rail line and he was arrested after being spotted "patrolling" streets near the family home.
Mr Justice Sweeney said that after his arrest Hussain "lied", claiming he had always intended to sell the device to The Sun newspaper and that his dabbling with explosives had been mere "experimentation".
The judge added: "In your case, culpability is extremely high as more than one explosion was clearly intended, and the harm to be caused was ultimately loss of life or serious injury to the person.
"You were clearly deeply radicalised and, over a period of at least nine months, were strongly committed to what you were doing."
At his trial, jurors were told Hussain held a pronounced interest in IS and had viewed many hundreds of images showing the terror group's actions, and also others showing Osama bin Laden and the deadly Boston bombers - who had successfully used pressure cooker bombs.
The High Court judge said he had also taken account of psychiatric issues, but "had some doubts as to the genuineness of your mental illness".
However, he concluded that on the evidence and reports of several expert psychiatric reports, Hussain had - during the time of the offence - and still did, suffer with paranoid schizophrenia.
But the judge said his offending "was only partly attributable to that disorder", finding that "the principal driver" had been his "voluntary bedroom radicalisation".
Jailing Hussain, he added: "You are a dangerous offender and in the view of the level of the danger that you pose, and the impossibility of predicting when it will come to an end, this is an appropriate case in which to impose a sentence of life imprisonment."