Birmingham Bin Workers To Be Balloted For Strikes
27 November 2018, 10:51 | Updated: 27 November 2018, 11:20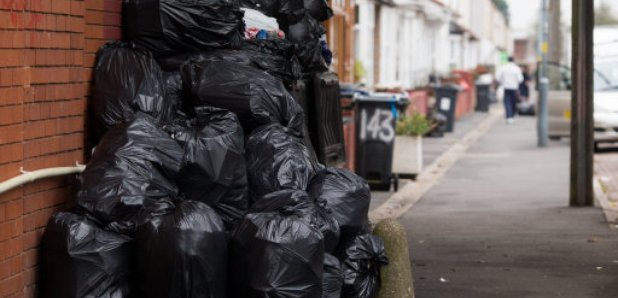 A dispute by refuse collectors in Birmingham, which led to a three-month strike, has flared again.
Hundreds of members of Unite at Birmingham City Council are to be balloted for strikes after the union claimed "secret"payments were made to workers who did not support last year's industrial action.
Workers will vote from Friday, with the result expected on December 14, raising the threat of industrial action over the Christmas period.
Unite has also lodged employment tribunal claims, saying the payments were tantamount to "blacklisting" workers who took part in the long-running strike.
The union's assistant general secretary, Howard Beckett, said: "By making these secret payments, Birmingham City Council has effectively blacklisted Unite members for carrying out their legal right to defend their jobs last year.
"We have pressed the council to explain why it made these secret payments to workers who did not go on strike, but have so far been met with a wall of silence.
"As a result, the council's secrecy and what we believe as discriminatory behaviour has forced us to the point where we are pursuing legal action and now balloting for industrial action.
"The residents of Birmingham should be aware that the last thing Unite members want to do is disrupt bin collections over Christmas.
"We would urge the city council to come clean with our members and put a stop to its discriminatory blacklisting behaviour."
Thousands of tonnes of waste was left on Birmingham's streets because of last year's strike, which was over changes to rotas.

A Birmingham City Council spokesman said: "We are committed to delivering the best possible services for citizens as that is what they
expect and we are continuing to work to improve waste collections.
"It is frustrating and surprising, just a few weeks after offering full support for the new operating model, that the leadership of Unite believe
this course of action is necessary.
"We will continue to work with our dedicated staff on the ground and all trades unions to ensure that bins are collected when and how people
expect them to be."